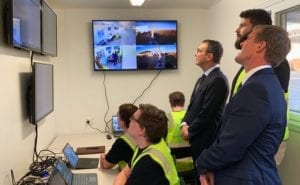 Southern Launch, DEWC Systems, T-Minus Engineering and the Koonibba Community will be entering the history books when Australia's first space capable rocket will be launched to the edge of space.
"This event is more than just Australia's first launch, but a testament to Australian companies coming together with our international partners to push the boundaries of the conceivable and inspire future generations to be space farers" – Lloyd Damp, CEO Southern Launch
The launch will be undertaken at Southern Launch's Koonibba Test Range (KTR) 40km northwest of Ceduna in South Australia, from a range head leased from the Koonibba Community Aboriginal Corporation (KCAC).
Launched northwards, the rocket will carry a small payload into the thermosphere where it will be released from the rocket to fall gently back to earth under a parachute where DEWC Systems, escorted by a local Aboriginal Cultural Monitor, will recover and examine it.
The rocket itself will be unlike any rocket ever launched in Australia. Designed and built in the Netherlands by T-Minus Engineering, the DART rocket will weigh only 34kg, have one rocket engine, yet will have two rocket stages. The rocket will burn out of fuel 6 seconds after lift-off and be travelling at Mach 5, or approximately 1.5 kilometres per second. The front "Dart" section, emblazoned with artwork developed by the Koonibba Community, will detach from the rocket and continue into the thermosphere while the larger rocket motor will fall back to earth.
The miniature payload, built by DEWC Systems, will be a prototype electronic warfare unit capable of detecting radar signals. Future versions of the payload will go into orbiting satellites and keep our soldiers safer from enemy forces abroad.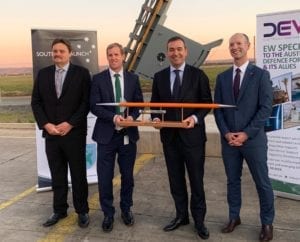 This rocket represents the epitome of NewSpace, the name given to the new revolution in how companies get to space, and what the satellites do when they get to space such as monitoring the seas for piracy, observing the growth of crops across the world, or connecting the rural farmer to a distant water tank through the power of Internet of Things (IoT).
The unique location of Koonibba has meant it is perfect for test flying NewSpace rocket and satellite technologies. The uninhabited National Parks to the north of the town represent a location from which companies can recover their rockets and satellite payloads and learn how to design and develop next generation technologies.
Operations at the Koonibba Test Range will provide ongoing employment for the local communities in Koonibba, Ceduna and greater Eyre Peninsula, and usher a new economy into the area.
The launch of the T-Minus Engineering Dart rocket, with DEWC Systems payload, from the Southern Launch Koonibba Rocket Test Range with the Koonibba people marks the start of space launches from Australia, and a future where all Australians can truly reach for the stars.
Premier Steven Marshall: "South Australia is already home to the Australian Space Agency, SmartSat CRC, Mission Control and the Space Discovery Centre. This Launch will further cement our state's reputation as the 'space capital' of the nation – and is a prime example of what the collaboration between local companies can achieve across this high-growth sector"