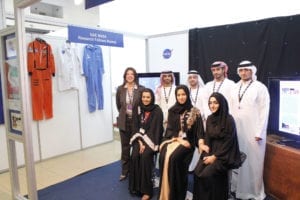 The UAE NASA Research Fellows program, which placed Emiratis as the first non-Americans to officially intern at the U.S. National Aeronautics and Space Administration (NASA), has reached a decade milestone. The first cohort of the multi-year program, Shamma Alqassim, Hazza bani Malek, and Hamad Rajab made history the summer of 2010, when they arrived at NASA Ames Research Center in Silicon Valley, CA, their work assignments all tied to relevant areas of the UAE's economy.
The interns joined space mission teams focused on remote sensing to predict natural disasters, gray water recycling related to sustainability and smart building technology, and electric load monitoring. Since that time, the three have gone on to even greater heights, including studies in robotics at M.I.T., nuclear energy at Masdar, and attending Harvard Business School. Each have since built their careers working on innovative projects in the UAE's diversified water, power, and nuclear sectors for the past decade, having joined DEWA and ENEC.
Returning from NASA, the trio were hailed as local heroes and were popular guests on TV, radio and in print and served as the first UAE space ambassadors and role models for the upcoming generation and then, burgeoning space sector. Lisa La Bonté, founder and CEO of the Arab Youth Venture Foundation (AYVF) secured the historic NASA Space Act Agreement that allowed for the creation of, and funding mechanism for reimbursing NASA for the program costs. The program provided the opportunity for high-potential Emirati university students to work at NASA and the UAE program and proof of concept built the model for all of NASA's subsequent international internships.
The first female Emirati NASA intern, Ms. Alqassim, President of the UAE NASA Research Fellows Alumni Org. (UNRFAO) recalling her research 10 years ago said, "My remote sensing work at NASA represents many applications for the UAE such as monitoring temperature fluctuations and detecting surface water. That our mission work was tied to critical UAE sectors was definitely a strategic benefit of AYVF's program and my work provided a life changing experience."
FOr information on the NASA International Internship (NASA I²) Program, visit www.nasa.gov/stem/international-internships-for-students.html