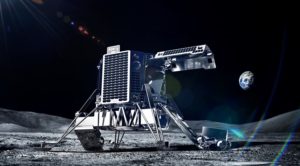 Lunar services company ispace, revealed the final design of its lunar lander that will be used in the first mission of the company's HAKUTO-R program, a multinational commercial lunar exploration program. HAKUTO-R's 'Mission 1' also reached the final hardware design phase, known as the Critical Design Review (CDR). The HAKUTO-R program also released an infographic and short video explaining the lander's complete design in detail.
Assembly of the lander will begin in Japan in 2021 at a JAL Engineering Co., Ltd. facility in Narita, Japan. Final assembly, integration, and testing (AIT) activities for the lander will be carried out by ArianeGroup at its facilities in Lampoldhausen, Germany. After assembly and final testing in Germany, the lander will be delivered to Cape Canaveral in the United States for its launch.
The target launch date of 2021, announced in September 2018 following the Preliminary Design Review (PDR) phase, has been adjusted to 2022[1] in response to technical issues which arose in recent months. The new target launch date was chosen in order to ensure higher reliability for HAKUTO-R customers and overall mission success. The lander is still planned to launch on SpaceX's Falcon 9 rocket.
Original design
With its legs extended, the HAKUTO-R lander stands at 2.3 m (7.5 ft) tall and 2.6 m (8.5 ft) wide, and it weighs about 340 kg (750 lbs.) dry mass—more compact and with a lower center of gravity than the Preliminary Design revealed in September 2018. In order to minimize propellant consumption, the lander will take a 3-month low-energy trajectory to the Moon. As such, the size of fuel tank was also reduced in size. The target payload capacity of 30kg[2] remained unchanged in the final design.
In addition to supporting the assembly of the lander, ArianeGroup is supplying the two independent propulsion systems: the main propulsion system (equipped with an apogee engine and bi-propellant thrusters) and a Reaction Control System (RCS) consisting of Hydrazine thrusters. Both propulsion systems are equipped with ArianeGroup components such as valves, pipes and fittings.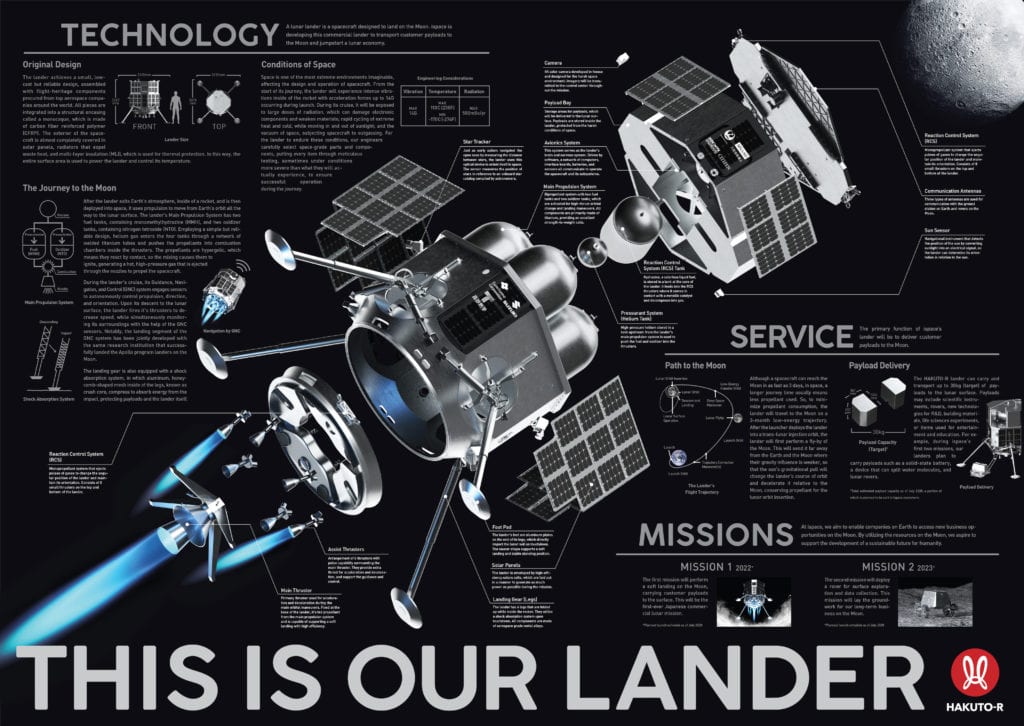 Increasing interest in lunar exploration
As momentum from the public sector and private sector around commercial lunar exploration continues to build worldwide, ispace aims to normalize lunar exploration and nudge the industry closer to becoming a mainstream business. "The same way boats, trains, cars and planes have enabled giant leaps in exploration and advancements in civilization," said Takeshi Hakamada, Founder & CEO of ispace, "the commercial lunar lander is the next form of transport that will propel human development."
As such, the company is using HAKUTO-R as a platform—through efforts such as the newly released infographic and video—to build awareness among the business community and general public on the mechanics of this new type of commercial space vehicle and its role in unlocking an entirely new market.
For more information on ispace, visit https://ispace-inc.com/