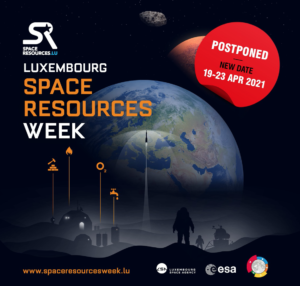 The Luxembourg Space Agency regrettably announced that due to COVID-19, they have decided to postpone the Luxembourg Space Resources Week originally scheduled on October 5-9, 2020 to April 19-23, 2021.
The health of all their guests must remain our top priority. They will have further information about the registration process and the agenda at a later stage. All details will be available at spaceresourcesweek.lu.  The team remains available for any further information at [email protected]
Please save the date For April 2021!
Meanwhile, you can watch highlights from the 2019 Space Resources Week here.
This announcement was made on 15 June 2020 by the Luxembourg Space Agency.