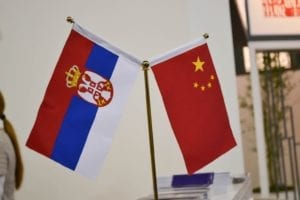 Serbia and China signed a memorandum of understanding (MoU) on space technology cooperation on 5 June 2020. The MoU includes a provision for the joint development of a Sino-Serbian satellite.
The MoU was signed for China by Zhang Kejian, director of the China National Space Administration (CNSA), and Nenad Popovic, Serbia's minister for innovation and technological development, via video conference.
According to Serbia's government, the MoU seeks "improvement of bilateral cooperation between Serbia and China in the development and use of space technology, satellite systems and the Earth Observing System, with applications in the field of smart agriculture, telecommunications, ecosystems, remote sensing systems and geolocation positioning."
"Our goal is to put the flag of Serbia on the spacecraft that we will jointly design," said Zhang Kejian after the signing of the MoU.
Nenad Popovic said, "We deeply respect the friendship between our two countries, and we wish for the document signed today to bond China and Serbia in friendship and economic development permanently. I am sure that our upcoming projects will pave the way for our joint vision."
Popovic added that the MoU will be of immense strategic value to Serbia as it will help the Balkan country achieve a number of its technological and strategic objectives. He also said that Serbia expects China to fully share its technology and know-how in space and satellite technology with Serbia.
The space technology MoU between Serbia and China comes as European countries are expressing growing concern about increasing Chinese economic and strategic influence in the Western Balkans. European analysts believe that the Western Balkans, in which Serbia is the largest country, is providing China with a toehold to establish a rival economic and strategic presence in the far west of Eurasia.
Serbia is not a member of the European Space Agency (ESA) and has not, until very recently, expressed any official interest in space policy and satellite technology development.