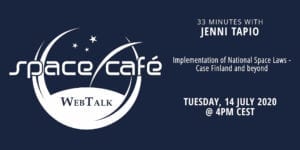 Join SpaceWatch.Global for an interesting and informative Space Café WebTalk featuring  Jenni Tapio, Chief Specialist, Ministry of Economic Affairs and Employment of Finland. This event will take place on 14 July 2020 at 4:00 pm CEST.
Jenni Tapio will share her thoughts about the values, challenges, and issues of implementation of  national space law in the European context. She will discuss the example of the Finnish Act on Space Activities. What does a national space law mean for business opportunities?
This Space Café WebTalk will be hosted by Torsten Kriening, publisher of SpaceWatch.Global and COO of ThorGroup GmbH. The audience will have an opportunity to ask questions in dialogue with Jenni Tapio.
This Space Café WebTalk will be conducted in English. Reserve your place today.