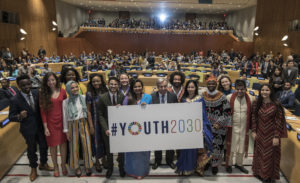 The United Nations Office for Outer Space Affairs (UNOOSA), in partnership with the Space Generation Advisory Council (SGAC), has launched the second edition of the Space4Youth competition for young people worldwide to share their ideas on space policy and exploration.
The Space4Youth Competition strives to elevate the voice of youth at the international level and to show how young people can contribute to the achievement of the United Nations Sustainable Development Goals (SDGs). The second edition of the competition focuses on SDG 13, Climate Action, which the United Nations Secretary-General called the defining issue of our time.
The competition supports the United Nations Youth Strategy, specifically its number one priority: "Engagement, participation and advocacy to amplify youth voices for the promotion of a peaceful, just and sustainable world".
In order to participate, young people have to submit an essay on "Space as a tool to address climate challenges: examples from local communities".
The selected winner and finalist(s) will be invited to present their essays at the 19th Space Generation Congress 2020, which, due to the COVID-19 pandemic, will take place virtually. Further, winners will have abstracts of their essays submitted to the 63rd session of the Committee on the Peaceful Uses of Outer Space (COPUOS), consisting of 95 Member States and 42 observer organizations.
In 2019, the first edition of the Space4Youth competition saw the participation of 135 young people from 40 countries. Thanks to the generous support of the United States Mission to International Organizations in Vienna and the US Department of State, three winners travelled to Washington D.C. to be rapporteurs in the 27th Workshop on Space Technology for Socio-Economic Benefits, organized by the International Astronautical Federation (IAF) and UNOOSA, and participated in the 70th International Astronautical Congress (IAC). At the IAC, they were the protagonists of a special Space4Youth event, where they pitched their ideas to a panel of global space leaders.
UNOOSA Director Simonetta Di Pippo said: "The first edition of the competition revealed a huge interest from young people worldwide in leveraging the innovative resources of space for sustainable development. Now we want to hear their ideas on how space applications can help us fight climate change. The talent of young people is essential in helping humanity address this challenge and UNOOSA is proud to provide a platform for their ideas to reach space leaders worldwide."
SGAC Executive Director Clémentine Decoopman said: "SGAC is thrilled to continue our engagement with the United Nations Office for Outer Space Affairs and to initiate the second edition of the Space for Youth Competition. The focus of this year's competition, SDG 13 Climate Action, is of utmost importance and really timely. Actions need to be taken by the next generation, who have a key role in tackling climate change challenges. We are really looking forward to hearing about young people's innovative ideas on how space can mitigate these challenges."