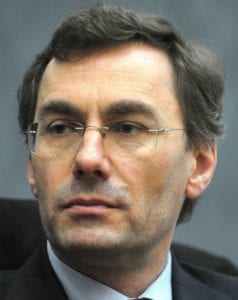 In this week's Space Cafe Web Talk Prof. Dr. Kai-Uwe Schrogl discussed space law for the future, offering his expert ideas and insights into space law-making, as well as describing some important goals and challenges to the process.
"It is a remarkable achievement that, for nearly 50 years, outer space actors have been abiding by the principles of international law and space law," Dr. Schrogl said. "This enables us to keep a positive outlook toward future developments in space law."
Dr. Schrogl explained in detail the most significant challenges in the space law-making process going forward, and the primacy of one key tenet: "We must maintain the principle that space is the province of all mankind," he said. "Space is something for the whole of humanity, and everyone should benefit from it."
He also answered questions from the audience.
Prof. Dr. Kai-Uwe Schrogl is President of the International Institute of Space Law.
This Space Cafe Web Talk, held on 26 May 2020, was hosted by Torsten Kriening, co-publisher of SpaceWatch.Global and COO of ThorGroup GmbH. The Space Café WebTalks series is SpaceWatch.Global's innovative webinar platform featuring global space experts.
Want to know more? Prof. Schrogl's background slides are available at Space Cafe Schrogl 26 May 2020
The complete video can be seen here: