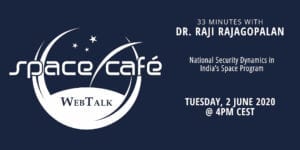 This Space Café WebTalk will feature Dr. Raji Rajagopalan, Distinguished Fellow and Head of the Nuclear & Space Policy Initiative at the Observer Research Foundation, New Delhi, in conversation with Torsten Kriening, co-publisher of SpaceWatch.Global and COO of ThorGroup GmbH.
Dr. Raji Rajagopalan will discuss how India's approach to outer space has been changing in the last decade and how it is now driven increasingly by national security concerns. India has made certain shifts in its policy, moving away from its traditional policy, an approach that was driven by moral and sovereignty angles. The reasons are not that hard to find: India's security concerns have grown and this includes the ones in outer space too. In addition, there are technological developments that have provided some solutions to the geopolitical tensions on earth. However, the most pertinent development from an Indian perspective remains China's rise and the competition between India and China that are increasingly driving at least some aspects of India's space programme.
The audience will have an opportunity to ask questions in dialogue with Dr. Raji Rajagopalan.
SpaceWatch.Global is a Switzerland-based digital magazine and portal for those interested in space and the far reaching impact of the space sector.
This Space Café WebTalk will be conducted in English.