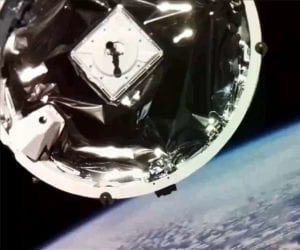 Rocket Lab, a space technology company and a global leader in dedicated small satellite launch, has resumed launch operations for its next Electron launch following the easing of Covid-19 restrictions at Launch Complex 1. The mission will launch payloads for the National Reconnaissance Office (NRO), National Aeronautics and Space Administration (NASA), and the University of New South Wales (UNSW) Canberra Space.
Rocket Lab's 12th Electron launch was originally scheduled for 27 March, however, the launch was postponed in response to 'Stay At Home' orders that required most businesses to close in response to Covid-19. With restrictions now easing and some businesses able to re-open with safety measures in place, launch operations have resumed safely and crews at Launch Complex 1 completed a successful wet dress rehearsal on 7 May 2020, NZT.
The launch is scheduled to take place from Rocket Lab Launch Complex 1 on New Zealand's Māhia Peninsula. A new 14-day launch window for the mission will be confirmed soon.
The Electron launch vehicle and the Launch Complex 1 ground systems have remained in a state of readiness throughout the Covid-19 lockdown in preparation for a quick return to launch operations. Enhanced health and safety processes will be implemented for this launch in line with government health advice to protect Rocket Lab personnel. These measures include physical distancing, split shifts, maintaining contact tracing registers, and enhanced cleaning procedures.
Peter Beck, Rocket Lab founder and CEO, says the early and decisive lockdown action has enabled the company to resume launch operations safely, providing commercial and government small satellite operators with access to space when they need it most.
"Our focus in recent years has been to structure Rocket Lab's teams and operations in a way that enables rapid production and launch capability in order to respond quickly to our customers' needs and spool up launch operations within days. We built our team and facilities with a focus on flexibility and responsiveness, and while we didn't think a global pandemic would be the reason for demonstrating rapid launch capability, we're able to put it into practice now."
"We count ourselves incredibly fortunate to be working with such dedicated teams at NASA, the NRO and UNSW Canberra Space who have been steadfast in their support. We look forward to delivering their payloads to orbit and keeping access to space open for them through these times."
This week Rocket Lab was also able to return to full production for Electron launch vehicles and Photon satellites. Accelerated manufacturing processes are in place to deliver a launch vehicle off the production line every 18 days to meet a busy launch manifest for the remainder of the year and into 2021. Through the brief pause in launch operations, Rocket Lab has maintained its entire workforce and continued placing orders with its suppliers, many of whom operate small businesses across the U.S. and New Zealand.
This announcement was made on 8 May 2020.