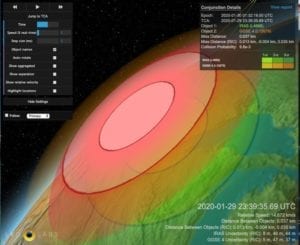 LeoLabs, Inc., a leading commercial provider of low Earth orbit (LEO) tracking and space situational awareness (SSA) services, introduced LeoLabs Collision Avoidance, a ground-breaking platform for automating and modernizing satellite operations, aimed at addressing the threat of orbital space debris. Powered by LeoLabs global network of radars and built on the LeoLabs SaaS data platform, LeoLabs Collision Avoidance offers a real-time stream of alerts and on-demand risk analyses that uniquely support collision monitoring.
Activity in low Earth orbit is expanding rapidly across many dimensions, with new constellations and services being deployed at record pace. Space organizations around the world can now take full control of their own operational safety against potential on-orbit collisions, confident that they are well informed. LeoLabs Collision Avoidance removes existing barriers to navigational security by delivering a comprehensive suite of cloud-based services for real-time alerts on close approach events and high-fidelity risk assessment. Users now have direct access to timely, high quality conjunction event data and analytics using a worldwide network of phased-array radars working around the clock on their behalf.
Collision Avoidance – Real-Time Platform for Automating Operations
"LeoLabs Collision Avoidance was architected from the start to address critical requirements for speed, responsiveness, flexibility, and transparency of information," said Dan Ceperley, CEO and Co-Founder of LeoLabs. "Satellite operators now have access to the first service specifically designed for protecting commercial constellations as well as critical government satellites and designed to automate and modernize operations and planning."  Unique features include streaming data feeds providing real-time conjunction alerts for owner-operator satellites, on-demand ephemeris screening with results returned instantaneously, automated radar prioritization and high-fidelity data products on all secondary objects in conjunction events, integration of external data sources, and robust web analytics tools for conjunction risk assessment.
For the first time, operators can get results without waiting on human execution for tasks such as ephemeris screening and increased radar prioritization. LeoLabs Collision Avoidance reduces operator effort and time-to-decision through automating and streamlining processes that previously required manual execution.
Cloud-based Services Powered by LeoLabs Dedicated Radars
"100% of our Collision Avoidance services are cloud-based, with no local software to install." said Michael Nicolls, CTO and Co-Founder of LeoLabs. "Web dashboards provide operators and analysts with a tailored user interface enabling access from any location or device. Operators should think of the LeoLabs Collision Avoidance solution as a powerful front end to our global network of ground-based radars. Never before has a single end-to-end solution, from radars to web application, been available as a commercial off-the-shelf service. This turnkey SaaS solution puts a simple face in front of the sophisticated cloud-based astrodynamics platform and network of ground-based radars."
The LeoLabs Collision Avoidance system is operational today and ready to serve the needs of commercial satellite operators, civil regulatory and space agencies, defense satellite operators, research satellite operators, and human spaceflight missions. Over the next 24 months, as LeoLabs adds additional high-fidelity phased array radars to its global sensor network, LeoLabs Collision Avoidance will expand collision alerts to include previously uncatalogued small debris.
This announcement was made on 13 May 2020.