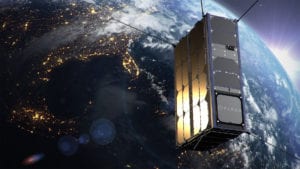 Kleos Space, the Luxembourg-headquartered radio frequency (RF) satellite reconnaissance company listed on the Australian Stock Exchange (ASX), has been awarded a contract by the Micro-Satellite Military Utility (MSMU) Project
The MSMU project is coordinated by the Utah State University Space Dynamics Laboratory (SDL) and the US Air Force Research Laboratory (AFRL) in the United States.
The contract allows the MSMU Project member states to access Kleos Space data. The MSMU Project is part of the Responsive Space Capabilities agreement that involves the defence ministries of Australia, Canada, Germany, Italy, The Netherlands, New Zealand, Norway, the United Kingdom, and the United States.
The purpose of the MSMU Project is to build the architecture and infrastructure for artificial intelligence applications that will allow human-machine teaming and machine learning for intelligence, surveillance, and reconnaissance (ISR) operations.
In the case of Kleos Space, it's data will be used in the MSMU's Multinational Heterogeneous Space Enterprise (ISR Enterprise) initiative that will provide users with reliable access to space-based information in changing and dynamic environments.
"This opportunity delivered by the team [led by] Peter Round and Karyn Hayes-Ryan is a great achievement and validation for the company. We are s
eeing increasing demand for our global geolocation intelligence data, which will enhance the ISR capabilities of governments and commercial entities. We are proud to be supporting the SDL & AFRL team on this exceptional programme," said Andy Bowyer, the chief executive officer of Kleos Space.
"Our satellites and our data will enhance defence capabilities when fused with other data sets in the government environment, as well as providing timely monitoring of illegal fishing, oil embargoes and other illicit action that both damages our environment and hurts our economies," Karyn Hayes-Ryan, a Kleos Space director, added.