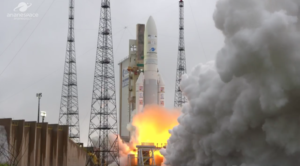 Following the measures presented by the French government on 28 April 2020 as part of the gradual resumption of activity planned from 11 May, and the announcement of a restart of operational activities at the Guiana Space Center, Arianespace confirms its following launch objectives:
Flight VV16/SSMS – The first "rideshare" Vega launch, carrying approximately 50 small satellites, in mid-June;
Flight VA253 – A dual-payload Ariane 5 mission for two customers, Intelsat and B-SAT, at the end of July.
All of these campaigns will be carried out in strict compliance with the health rules published by the Prefect of French Guiana, as well as the French CNES space agency and the Guiana Space Center. The objective is to preserve the health of launch site workers and those who are deployed to the space center, as well as the local population – all while ensuring the security and safety conditions required for preparation of the planned launches.
After the suspension of launch campaigns that was imposed on March 16, standby measures and security controls for launch vehicles and satellite payloads were handled by the teams of Arianespace, CNES and all the companies involved in the Guiana Space Center, and carried out in accordance with standard procedures.
The launch campaigns for two Soyuz missions – Flights VS24 and VS25 – will resume this summer.
As of 21 April, the measures to maintain the launch site in an operational configuration have been carried out with local teams based in French Guiana, applying social distancing measures.