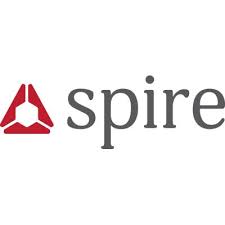 Spire Global, a global data service provider and leader AIS data solutions and weather forecasting, announced today the year-over-year results for its maritime business unit. Spire Maritime expanded into Asia and celebrated a four-fold increase in bookings in 2019. It continued to build on its successes after launching in January 2019 offering its first weather product for the maritime industry and innovative tools like Dynamic AIS™. And it set a new industry standard by quadrupling AIS growth. These developments unlock unrivaled and instantaneous insight into vessel data and ship information.
Spire Global runs the world's largest private constellation of nano satellites making radio occultation measurements, alongside other whole-earth observations that serve the maritime, weather and aviation industries. This breadth lets us tailor easy-to-use products that suit our partners' immediate needs and then continue to update the solutions as their demands evolve.
With the creation of the new maritime business unit last year, the company is focusing on high-growth opportunities in AIS data and analytics for activities at sea. Maritime intelligence data has emerged as a critical component of the maritime industry, from tracking global fleets and monitoring illegal activity, adapting to changing weather, and maintaining safety at sea.
Since launching, Spire Maritime has quickly become a global leader in capturing, mining, refining, and analyzing AIS-related data and information. It is the first satellite AIS provider to run a data analytics and integration program. It also continues to improve maritime products by not only innovating hardware at every launch but also pushing continuous software updates to optimize collection.
As part of its service package, Spire Maritime offers enhanced vessel data, predictive analytics and historical data about vessel usage and cargo patterns. The company uses technologies like machine learning to deliver real-time data and insights that are now proven and tested in the maritime sector. And Spire Maritime is even finding ways to push AIS data beyond its initial use, delivering Big Data through easy-to-use APIs enabling companies to build innovative applications, and develop data-driven strategies and consumption models.
We purposefully design our products to solve real-world issues. For example, Spire Maritime launched Dynamic AIS™, a solution to the disruptions in AIS signals in high traffic zones. This world-first innovation uses thousands of satellite-enabled AIS receivers on ships traveling through crowded areas to fill in AIS data gaps, helping companies plot safer and more efficient routes.
Spire Maritime then goes a step further, combining Dynamic AIS data with terrestrial and satellite counterparts into one service. In the South China Sea, for example, this solution captured 56 percent more messages and 25 percent additional unique MMSIs than previous systems. Our satellite constellation also ensures areas outside the range of terrestrial receivers are always covered. And we use our data on vessels, shipping, and transportation projections to support breaking news and interactive data features for outlets such as Bloomberg News, Forbes, and The Maritime Executive.
The maritime industry is growing rapidly, and multiple subsectors are burgeoning with startups that build applications to solve niche challenges. Spire Maritime supports this thriving market by providing high-quality data through easily operated APIs. We strive to make data and products as accessible as possible for application service providers because we know first hand that the future is built by people who invent, develop, and implement new technology.
We are using the same innovative philosophies to revolutionize the maritime division that we used to establish Spire Global as a leading global data and analytics company. The maritime team of industry experts tripled in size in 2019 and boasts members from 20 different countries. This broad cultural diversity and deep expertise create the global mindset necessary to solve some of the world's most challenging problems. With seasoned leadership to guide the expert team, Spire Maritime was quickly embraced by the industry and is already bringing to life the next generation of solutions.
"Spire has created tools and solutions that are fundamentally transforming the Maritime industry. The response from the industry on the ease of use and easy integration, is the best validation we could possibly receive" said John Lusk, VP, Global Data Solutions. "We are solely focused on creating actual value for our many recurring customers with digital transformation. "The shipping industry, historically, has been a laggard when it comes to technology innovation and digital transformation," "That's all changing in real-time. We're now seeing more and more Maritime vendors providing data specific solutions to customers. And we're seeing some of the bigger shipping companies develop highly innovative technology solutions, based on data and predictive analytics, to improve operational efficiencies. They understand they need data driven strategies to grow and remain competitive. We see this acceptance as a barometer we have succeeded in creating new technologies for maritime built for and by seasoned leaders."
"Our success with Spire Maritime in 2019 is the direct result of our seasoned leadership developing product solutions directly with top innovators in the maritime industry, untouched by digital. We faced many of the same challenges creating a new industry standard with Spire Global. The widespread acceptance of Spire Maritime by the industry is further testament we will be applying these exact same strategies in providing new product solutions and a previously unavailable data set to Maritime to Aviation and Weather verticals in 2020," said Peter Platzer, CEO, Spire Global.