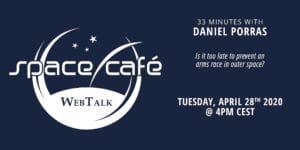 Space Café WebTalks is SpaceWatch.Global's new webinar series featuring global space experts.
This Space Café WebTalk will feature Daniel Porras, Space Security Fellow at UNIDIR in conversation with Torsten Kriening, co-publisher of SpaceWatch.Global and COO of ThorGroup GmbH.
Daniel Porras will discuss the question Is it too late to prevent an arms race in outer space? The audience will have an opportunity to ask questions in dialogue with Daniel.
SpaceWatch.Global is a Switzerland-based digital magazine and portal for those interested in space and the far reaching impact of the space sector.
This Space Café WebTalk will be conducted in English.