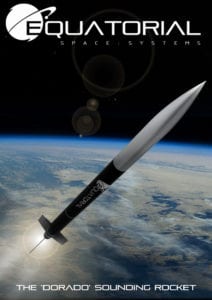 The Dorado, named after the swordfish constellation, will be Equatorial Space's second rocket after the Low Altitude Demonstrator, pending launch due to the COVID-19 work and travel restrictions.
The Dorado rocket will be the very first commercial sounding rocket capable of exceeding the Karman Line, the conventional boundary of space, in Southeast Asia. The slender, 6.5m-long rocket will weigh approximately 370 kilograms once ready for its first mission in the fourth quarter 2020.
"Unlike the SHARP vehicle, which we are concurrently working on, the Dorado is not a technological demonstrator. It's meant to be simple, cost effective, and quick to launch, and it will not feature a Guidance, Navigation, and Control system," says Simon Gwozdz, the CEO of Equatorial Space.
"The Dorado will be made available in two versions – a single-stage vehicle designed to reach an apogee of 105 kilometres, and a two-stage version capable of reaching altitudes above 200 kilometres. This will provide our clients with approximately 3 and 6 minutes of weightlessness respectively."
The pricing of the Dorado missions, as well as the launch locations, will be revealed at a later date.
Equatorial Space is a Singapore-based space tech startup developing innovative technologies for space launch and exploration activities. With its proprietary hybrid propulsion, its technology allows for cheaper, safer and greener alternatives to existing solutions in both orbital launch systems, as well planetary landing missions.
Aiming for the first orbital launch by 2022, Equatorial Space was crowned the winner of MBRSC Innovation Cup 2018 in Dubai, named a Top 500 Deep Tech Startup by Hello Tomorrow 2018, as well as named the Most Promising Startup at the NAMIC Innovation Day 2019.
This announcement was made on 27 April 2020.