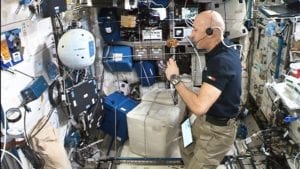 CIMON-2, the updated version of the CIMON astronaut assistant, developed and built by Airbus for the German Aerospace Center Space Administration (DLR), has now demonstrated its capabilities during initial tests on the International Space Station (ISS). The free-flying, spherical technology demonstrator with artificial intelligence (AI) showed off a number of its features during interactions with ESA astronaut Luca Parmitano. CIMON-2 started its journey to the ISS on 05 December 2019, launching with the CRS-19 supply mission from the Kennedy Space Center in Cape Canaveral, Florida. It is scheduled to stay on the ISS for up to three years. Just shy of two months after the successful first use of CIMON-2, the project team has now received the analysis.
A number of tests have now been carried out on CIMON-2, for example on its autonomous flight capabilities, voice-controlled navigation, and its ability to understand and complete various tasks. It also managed to fly to a specific point in the ISS Columbus module for the first time. Thanks to absolute navigation capabilities, CIMON-2 was able to follow verbal commands to move to a particular location, regardless of where it was to begin with. For example, while starting up its new hardware and software, ESA's Astronaut Luca Parmitano asked CIMON-2 to fly to the Biological Experiment Laboratory (Biolab) inside the Columbus
module.
It was also given the task of taking photos and videos in the European ISS module on request – and then showing these to the astronaut. Using these capabilities, CIMON-2 will be able to help with future scientific experiments on the ISS. The microphones of the current version of the technology demonstrator are more sensitive than its predecessor's (CIMON), and it has a more advanced sense of direction. Its AI capabilities and the stability of its complex software applications have also been significantly improved. The degree of autonomy of the battery-powered assistant has been increased byaround 30%. Astronauts can also activate a feature on CIMON-2 that allows it to analyse emotion in language and show empathy when interacting with the astronauts.
In addition, the project aims to research whether intelligent assistants such as CIMON could help reduce stress. As a partner and assistant, CIMON could support astronauts with their high workload of experiments and maintenance and repair work, thereby reducing their exposure to stress. CIMON lays the foundations for social assistance systems that could reduce stress resulting from isolation or group dynamics during long-term missions. Such systems could also possibly help to minimise similar problems back on Earth as well.
This announcement was made on 15 April 2020.