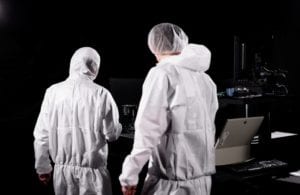 Sen, a British space company establishing video streaming media to provide real-time and timely Ultra-High Definition (UHD) video of Earth, has contracted NanoAvionics to build the first five nano-satellites of its constellation.
Sen has already demonstrated its technology of streaming ultra-high definition (UHD) video from space. It is now focused on developing its "EarthTV" constellation of nano-satellites to stream real-time and timely videos from space. The service, which will include a freely accessible app for individuals, will be used for monitoring environmental events and natural disasters such as wild fires, floods, and storms, as well as monitoring climate change and movement of large groups of people.
As the start of Sen's mission to create its "EarthTV" constellation, NanoAvionics will build the 16U nano-satellite buses and integrate Sen's payload at their European manufacturing and research facility in Vilnius, Lithuania.
Each satellite will be equipped with several UHD cameras, providing multiple perspectives of Earth, from wide angle imagery down to 1.5M resolution. The envisaged launch of the first nano-satellite, EarthTV-1, will take place by mid-2021. Following a successful test demonstration of EarthTV-1, sending real-time UHD quality video from low Earth orbit (LEO), NanoAvionics will build the remaining four nano-satellites for launch in 2022.
"Our planet is constantly changing and Sen's satellites will provide a new and persistent way of seeing events unfolding, empowering humanity to witness the evolution of our planet in a unique way. We hope to increase awareness of environmental events and human movement with information that can educate, inspire and empower people to change and improve the outcome," says Charles Black, Founder and CEO of Sen. "We are delighted to be working with NanoAvionics. They have a great team of engineers, first class facilities and a successful track record of building nano-satellites. Our teams have worked extensively together over the last six months to ensure the satellite bus will meet our specific requirements for streaming high definition videos from several cameras."
NanoAvionics standardized flight-proven nano-satellite buses use modular software approach and flexible architecture with a single fault tolerant design option. By doubling the critical satellite subsystems, single point failures are removed from the system, hence adding mission reliability and redundancy. Such satellite system is designed to have a mission lifetime of 10 years in LEO. These features have allowed the company to increase the range of capabilities offered for a payload, making them ideal to host Sen's video cameras and video streaming system.
"Building a real-time video service in space is a fantastic mission and shows the growing capabilities of nano-satellites", said Vytenis J. Buzas, co-founder and CEO of NanoAvionics. "We have scaled our flagship preconfigured M6P bus to achieve 12U and 16U form factors and to provide customers like Sen with more possibilities for their missions and payloads. These scaled-up versions have already become our most sought-after products and main workhorses in enabling innovative satellite missions in LEO."
This announcement was made on 5 March 2020.