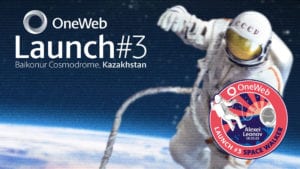 OneWeb, the global communications company with a mission to bring connectivity to everyone everywhere, confirmed its next launch will take place on Saturday, 21 March 2020 at 17:06 GMT from the historic Baikonur Cosmodrome in Kazakhstan.
The second launch for OneWeb in 2020, these additional 34 satellites will bring the constellation total to 74. The satellites are built by OneWeb Satellites, a joint venture between OneWeb and Airbus, that has revolutionized satellite manufacturing with a new high-volume manufacturing process that can build up to two satellites a day.
Arianespace will launch OneWeb's satellites into a near polar orbit of 450 kilometers, after which they will be raised to their final orbit of 1,200 kilometers.
OneWeb's first customer demos are scheduled for the end of 2020 and availability of commercial services, for sectors such as maritime, aviation, government and enterprise, scheduled for the end of 2021.
The theme for this launch commemorates the late Russian cosmonaut Alexei Leonov, who made history 55 years ago when he became the first person to exit a spacecraft and walk in space. The OneWeb mission patch bears his name and celebrates his achievement (see below).
OneWeb will be streaming the launch on Facebook, and it can be followed via OneWeb's social media channels: YouTube, Instagram, Twitter, Facebook.