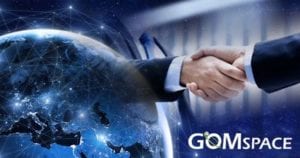 RBC Signals, the multi-national provider of flexible and cost-effective space communication services, and GomSpace, the manufacturer of nanosatellite solutions and operations services, today announced an MoU. The technology agreement will ensure that their companies' respective solutions are fully integrated.
The MoU includes:
GomSpace will continue to support future versions of RBC Signals through its "Mega-Constellation Operations Platform", which will be available for customers through GomSpace's "operations-as-a-service" offering;
RBC Signals will support current and future versions of GomSpace communication systems;
GomSpace and RBC Signals will ensure future compatibility and service availability by coordinating updates to APIs, firmware and hardware releases.
The collaboration is non-exclusive and allows customers to choose from compatible complementary services that best fit their mission needs.
"We are very pleased to continue to extend our integration with commercially available ground station networks – now including RBC Signals. With this collaboration, we will extend the operational capabilities of our Operations Service for the present and future GomSpace communication systems and increase the ground station coverage and availability for GomSpace customers through RBC Signals' network," says Niels Buus, CEO of GomSpace.
"We are excited to collaborate with GomSpace," says Christopher Richins, founder and CEO of RBC Signals. "This agreement will enhance our offerings and bring more opportunities to both companies by bringing more comprehensive customer solutions to the market."