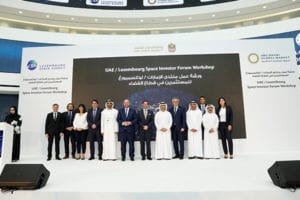 The space agencies of the United Arab Emirates and Luxembourg, in partnership with the Abu Dhabi Global Market (ADGM), convened the UAE/Luxembourg Space Investment Forum on 29 January 2020 in Abu Dhabi, the capital city of the UAE.
The forum brought together senior government and space officials from both countries, as well as companies, investors, and space and satellite experts to discuss investment opportunities and other matters of mutual interest and concern.
Supported by the Embassy of Luxembourg in the UAE, the forum also featured a presentation by the UAE Space Agency of its Space Investment Promotion Plan that aims to support Emirati investors in the space sector and enhance the sector's strategic benefits to the UAE. For their part, representatives from the Luxembourg Space Agency and government spoke about the country's role as a European gateway for space investments and industry.
H.E. Ahmad Al Falasi, Minister of State for Higher Education and Advanced Skills and Chairman of the UAE Space Agency, said, "We are delighted to have partnered with the Luxembourg Space Agency and Abu Dhabi Global Market for this workshop. As we enter one of the UAE space sector's most exciting years with the upcoming launch of the Emirates Mars Mission, it is essential that we continue building on these valued relationships and partnerships."
H.E. Dr. Mohammed Nasser Al Ahbabi, Director General of the UAE Space Agency, added, "With support from the Luxembourg Space Agency through our existing bilateral agreement with them, we can access the European space market, allowing us to share knowledge, experiences and resources. As part of the workshop, we have successfully showcased our Investment Promotion Plan, which will allow the UAE's space program to flourish both locally and internationally."
Juma Al Hameli, Senior Executive Director of Strategy and Business Development at the Abu Dhabi Global Market, said, "We look forward to supporting the space agency to provide the platform for the Space Tech start-ups through our Entrepreneurship Support and Tech Start-Up programmes, as well as Hub71,  a key initiative of the Abu Dhabi government's Ghadan 21 economic accelerator programme."