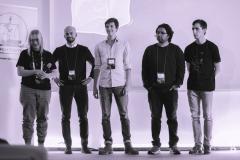 If they are brilliant, dedicated, and just a bit lucky, teams of 3-6 members can transform a fledgling idea into a company in just 54 hours at Startup Weekend Space in Bremen, Germany.
Over the course of a weekend in November 2019, members and teams pitched or joined ideas, met like-minded people, grew their networks, and learned new skills. Some moved to the next step, tuning their business model or even developing a demo or prototype. On the last day, final teams pitched their startup concepts to a jury and audience. Winners were crowned, and startups were born.
The team called Jelly Space, the weekend's Grand Champion, is now on its way to founding its startup.
"We can't believe we won," said Sandra Kiel, a self-described business development nerd and mother of two. "It was a great weekend, and we are very proud that we turned a small idea into a company in 54 hours. We're also grateful for the mentoring and coaching we're receiving – it's a tremendous opportunity."
The Jelly Space Team consists of its five founders, who represent different genders, generations, and cultural backgrounds. They believe their diversity enhances creativity. In addition to Kiel, the team includes Ali Musab, an automotive engineer with a passion for IoT, aerospace, and AI; Kamil Kaczmarczyk, an aerospace professional passionate about unlocking human potential, Jaime Martin, an aerospace engineering student who is always on the lookout for new challenges, and Cedric Sommer, a business graduate eager to tackle the emerging markets of the future.
Jelly Space believes that big innovations in space must be driven by startups and small to medium enterprises, not just by large corporations. They believe disruptive change can be accelerated in space tech by empowering startups with the same access to knowledge and resources offered to the industry's major players.
To facilitate this process, Jelly Space aims to make it possible for startups to gain access to the specific technical knowledge they require for success. Their goal is to create a platform to "engage with the space-tech world's audacious challenges to propose novel solutions."
In addition, Jelly Space intends to bring space and other industries closer together, offering those outside the space industry access to space solutions by allowing them to exchange information and foster collaboration with the space sector. They believe that making space more accessible for all industries will be a major axis of change in the years to come.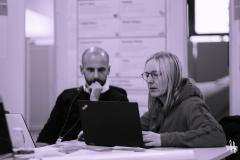 "We would like Jelly Space to be a global space-technology innovation engine that facilitates collaboration, enhancing problem solving pursuits across various domains in the space industry and beyond," Kiel said. "Solutions can come from anyone, anywhere."
"We want to reach out to space-tech users and enrich them with our amazing platform, which they can use both to share their own specialized knowledge and to access the knowledge of others."
As this agile team now moves through its first months working as a space startup, they are validating their ideas and conducting informational interviews with their target customer base.
"We want to implement a customer-centric working philosophy with the highest level of integrity," Kiel said.
Now Jelly Space is asking for your help to understand if and how their idea provides value for you. They are asking you, the SpaceWatch.Global community, to complete a brief survey to assist in the validation process and help the Jelly Space team build toward its goals.
To complete Jelly Space's confidential survey, please click here.