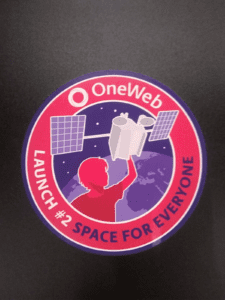 By Ewan Lawrenson
On 7 February 2020, global communications company OneWeb successfully launched 34 satellites aboard a Soyuz launch vehicle from the Baikonur Cosmodrome in Kazakhstan. It was the second successful launch in OneWeb's campaign to build its phase one constellation of 648 satellites to deliver high-speed, low-latency global connectivity.
Ewan Lawrenson and Laurie Scott of neuco had the unique experience of attending the launch party.
In this #Spacewatch.GL Op-Ed, Lawrenson offers an insider's view of this special event.
One might expect a sense of nervousness in the air at a launch party of such magnitude. I suppose it's a testament to the ability of all involved at OneWeb that when they called it a launch party, they meant it.
This was definitely a party. Cakes emblazoned with quotes of Responsible Space and Space for Everyone reaffirmed OneWeb's commitment to bring positive change worldwide and beyond; the event venue was filled with c-level corporate types, seasoned and experienced, enjoying drinks and conversation with junior engineers, dynamic and driven. OneWeb was showing us all that they were ready to take the next step in their game-changing journey.
Global communications is a turbulent industry, and all companies involved in this mega constellation race have experienced their own hardships, enough for some to be their ruin. Nothing is guaranteed, and for OneWeb this launch had been a long time coming.
If there was a sense of relief in the air, it was a case of being able to finally mark a new chapter at the company. With all 34 satellites later being successful in signal acquisition, bringing them now up to 40 in orbit and boasting a 100% success rate, so began the next step in the new space race.
Indeed, this is quite a milestone—for both the company and the industry. With OneWeb's successful launch of their first large-scale batch of satellites, and with many more to come, the battle for global connectivity is heating up.
One of the many great things about this launch party was the joy of seeing for myself the wonderful diversity of the OneWeb team: like their coverage, it is truly global; junior and senior, multi-national, each with a role to play, each with a story to tell. In this moment, they were all together, sharing a much-deserved sense of pride and achievement in their work.
Each and every OneWeb individual has made, in some form or another, an important impact to reach this point in their collective journey, and their stories are far from finished. OneWeb CIO Vikas Grover marked the occasion with a delightful speech before everyone turned their attention to the launch itself, as we witnessed OneWeb's precious cargo depart toward its new home above us.
It was a personal pleasure for members of our neuco team to see the individuals we helped to place into roles in their NOC team, all of whom have clearly grown exponentially during their time with OneWeb. Many were visibly filled with a sense of community and achievement on launch day.
It is a real privilege to say that we at neuco have been able to aid OneWeb in shaping the future of global connectivity and we look forward to our continued partnership.
The debate about who will come out on top in this mega constellation battle is one for another day. This successful launch – and its celebration — marked a substantial step forward in this new space race and ultimately announced the realisation of a OneWeb dream. They have created a team who have been meticulously planning, designing, manufacturing, and testing their technology for several years now.
Their hard work will soon pay off because their hard work now has lift off!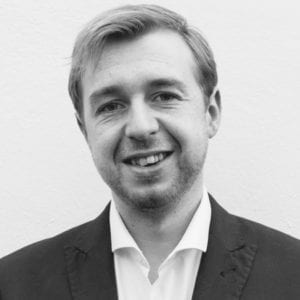 Ewan Lawrenson is a consultant at neuco.