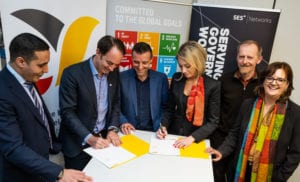 The Belgian development agency Enabel and SES S.A., a leader in global content connectivity solutions, will deliver satellite-based communications for the development and foreign aid projects spearheaded by the Belgian and other European governments. Under the multi-year framework contract awarded following a public tender, SES will bring managed end-to-end connectivity infrastructure and services to over 130 sites to support Enabel and development projects in 20 countries across Africa.
The end-to-end connectivity solution delivered by SES will be supporting Enabel in its goal of providing partners with the right digital solutions and latest technologies. The connectivity will power Enabel's projects and activities, further reinforcing the agency's commitment to the 'Digital for Development' policy (D4D) of the Belgian Development Cooperation and of the European Commission, the Principles for Digital Development and the UN Sustainable Development Goals.
As part of the solution, SES will provide antennae, installation, satellite bandwidth, and end-to-end services to allow Enabel and its partners to upgrade the skills of African professionals, elevate the healthcare system and improve the people's living conditions.
"At Enabel, we believe that digitalisation and the benefits it brings serve as a catalyst for development. Access to high-bandwidth connectivity is essential for our projects in remote locations as it allows us to deploy critically important tools. We are delighted to find in SES a reliable partner who shares these values and has the right expertise," said Jean Van Wetter, Managing Director of Enabel. "SES's ability to quickly deploy a high-performance communications infrastructure and service, and their track record of working with governments around the world, make them the best fitting partner to support the nations in achieving Sustainable Development Goals."
"Many countries in Africa are characterised by vast or landlocked territories, making it difficult to deploy extensive terrestrial communications infrastructure," said Nicole Robinson, Senior Vice President of Global Government at SES Networks, the data-centric business unit of SES. "We are incredibly proud and humbled to provide Enabel with connectivity so that training programmes and various critical applications can be deployed, and quality of life in remote locations can be improved."
The agreement was announced on 12 February 2020.