By Valerie Vlasenko
Do you want to be an astronaut? Master these social skills first
Strong technical skills and outstanding physical abilities are just some of the qualities space agencies look at during the astronaut selection process. But is that all? Let's agree that if it was only about physical performance, we would probably resort to robots and AI. Yet, space agencies spend millions on astronaut training programs, making sure they are sending the best candidates for the job. SpaceWatch.Globals Valerie Vlasenko asked ESA astronaut Matthias Maurer what are the most important skills that astronauts need to possess.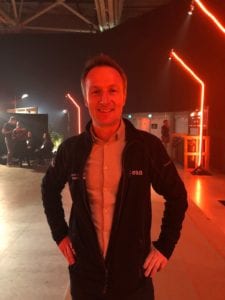 Dr. Matthias Maurer is a European Space Agency astronaut and materials scientist. Originally from Germany, he studied in Spain, France, and the UK and speaks several European languages such as English and Russian. He is currently studying Mandarine and one a few European astronauts trained together with the Chinese. 
"I was always fascinated by space and dreamt of becoming a pilot when I was a kid. When I saw that ESA is looking for new astronauts I thought I should give it a try."
Maurer's journey started in 2008 when together with the other 9 applicants he made it to the final round of ESA astronaut selection. After narrowly missing out on astronaut candidacy at that stage, he worked for ESA in a variety of roles including crew support and Eurocom (European spacecraft communicator) before officially joining the ESA astronaut corps. In 2018 Maurer completed basic astronaut training and became fully certified to go to space.
He was selected in 2015 to take part in space training and is scheduled to fly in 2022.
How does it feel to be set to fly but the flight is set 2 years from now?
"As an astronaut, you've got to learn patience," smiles Maurer.
Indeed, when we think of astronauts, we often acknowledge their hard skills – medicine, engineering, science, etc. We also look at their physical conditions – endurance, stress resistance, resilience. 
Yet often, it is the soft skills that make astronauts stand out from the crowd. After all, you want a dependable, stable and understanding crew member when you are fully disconnected from life on Earth. For that, future astronauts will naturally need such skills as adaptability, mental strength and even – a good sense of humor. 
"If there is one soft skill we need to master, it is communication. Social skills are of utmost importance for a job that requires working with teams of astronauts from other countries and cultures in an isolated environment for a certain period of time. When you fly to the International Space Station, you become a part of an international team. There may be people from Russia, the US, Japan, Canada, Germany, Italy, etc. You need to be a really good team player, fly up as good colleagues and come back as good friends" says Maurer.
Applicants with a lack of social skills get filtered early on during the selection process. Those that go through receive additional training in social skills known as "human behavior performance training". This is where future astronauts learn more about team dynamics and work with feedback from both trainers and other team members. 
"You get more aware of your own behavior and aim to improve it down the line. Often, we detect flaws in other people's behavior, but not in our own. These training sessions gave me lots of feedback on what I myself could do better in order to make the team more successful. That was incredibly useful."
Maurer's human behavior performance training took place in Sardinia, inside the network of caves. The team is brought there for a week to simulate the number of activities they would otherwise perform on the ISS. For example, the team is moving around using tethers – just like astronauts do during a spacewalk.
 ESA's Caves – Astronaut Training Program
"At some point you find yourself hanging above the void. That is when you realize how much your life depends on your crew, and it really does not matter which country or culture they are coming from. You learn to trust people unconditionally and become trustworthy a colleague for them."  
Each individual task is designed so that the person cannot complete it without asking for help. Thus, the participants do not only receive but also give help. This way they learn when is the best time to assist and when not to. 
"During this training, you learn first hand what leadership and followership are all about. You learn when it is better to lead and when it is better to follow. Because sometimes you are contributing to the common goal by being a follower or even – not doing anything."
Living and working effectively in a close environment put astronauts under enormous stress. Do fights and misunderstandings happen on the ISS? They certainly do, however human behavior performance training teaches astronauts to handle it professionally. 
"It really comes down to effective communication," Maurer concludes.
So when you start planning on your journey towards becoming an astronaut, or a professional in any field, for that matter – do not leave your social skillset untrained. They might just be your competitive advantage, the "ingredient" that will set you apart from the rest.
SpaceWatch.Global thanks Dr. Matthias Maurer of ESA for the interview.
Valerie Vlasenko is SpaceWatch.Global Contributor, an entrepreneur tackling the dilemma of popularising space. Founder of VSpace Media and Curator of Arctic15 Space conference, Valerie has a rich experience as an entrepreneur, a journalist, and a space lawyer.