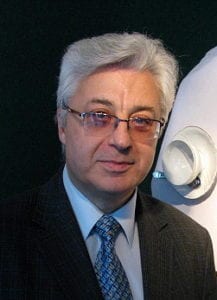 Russia is willing to assist the Central Asian republic of Turkmenistan in developing its second satellite and in the selection, training, and launch of the first Turkmen astronaut, according to Yuri Baturin – vice president of the Tsiolkovsky Russian Academy of Cosmonauts, politician, and a former cosmonaut – during a visit to the Turkmen capital Ashgabat on 25 January 2020.
Baturin was in Ashgabat for  meeting with Turkmenistan's Industry and Communications minister Ashir Garayev who is also in charge of all space activities in the Central Asian country.
In 2015 Turkmenistan had its first satellite, TurkmenAlem52E/MonacoSat, launched on board a SpaceX Falcon 9 satellite launch vehicle and placed in geostationary orbit (GEO). The TurkmenAlem52E/MonacoSat provides Turkmenistan with satellite broadcasting, data, and broadband services and has at least another 11 years of design life left.
Yuri Baturin stated that Russia is willing to assist Turkmenistan in framing the requirements for a second satellite, as well cooperate in its design, development, and launch, although what type of satellite this would be (e.g. communications or Earth observation) was not mentioned.
Baturin told reporters in Ashgabat that, "The [first Turkmen] satellite cannot remain alone — it will be definitely followed by the second and third ones. So the first thing we need to establish is cooperation in realms of satellite launches."
Turkmenistan is determined to establish its own domestic space industry, and has reportedly budgeted approximately U.S.$371 million to fund its efforts. It is also believed that since 2017 Turkmenistan is also indigenously building its own remote sensing satellite to support Turkmen economic sectors such as agriculture, oil and gas, and infrastructure monitoring.
As reported in 2019 by SpaceWatch.Global, it is also reported that French aerospace giant Thales Alenia Space and South Korean satellite manufacturer Satrec Initiative have been engaged in discussions with Turkmenistan to acquire a high-resolution Earth observation satellite from either of them. The discussions with the Satrec Initiative are taking place against a backdrop of increased Turkmen-Korean relations with both countries having signed a technological cooperative framework to develop 5G networks in Turkmenistan and assist it in developing satellite technology.
Yuri Baturin also said that Russia is willing to help Turkmenistan select, train, and launch the country's first astronaut, saying, "If Turkmenistan wants to send a Turkmen cosmonaut into space, then we can help with training."
This offer is part of a wider pattern of Russian space cooperation that offers countries the opportunity to have their first astronauts trained and launched by Russia, and is usually tied to the expansion of relations with Moscow in the areas of energy and defence.