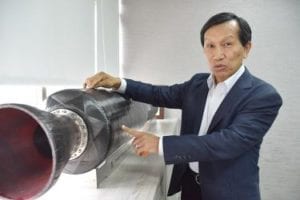 Taiwan Innovative Space Inc. (TiSPACE) has become the latest company to enter the increasingly crowded, and technically challenging, small satellite launch market.  TiSPACE was established in 2016 by Chen Yen-sen, a 21-year NASA veteran, who was employed by Taiwan's semi-official National Space Organisation (NSPO) for over a decade.
Chen joined the NSPO in 2005 after he returned to Taiwan from the United States, and was responsible for Taiwan's sounding rocket projects there that ceased operations in 2014.
Chen recently told the Taipei Times that he left the NSPO to start TiSPACE in order to develop commercial applications of hybrid rockets. TiSPACE employs 104 individuals, including a large number of engineers from the information and communications technology industry, the Chungshan Institute of Science and Technology, and even an Australian rocket company.
Earlier in 2019, TiSPACE increased the efficiency of its hybrid rocket engines to achieve NASA-defined Class-I rocket propulsion. Chen told the Taipei Times that TiSPACE managed to do this while keeping costs lower than competing firms. According to Chen, TiSPACE hybrid rocket engines can generate more than 1,000 kilograms of thrust.
TiSPACE intends to start providing commercial launch services to clients around the world in late 2020, and is in negotiations with other countries about leasing launch facilities. TiSPACE also plans to establish an office in California so it can access the U.S. commercial space and satellite ecosystem and even use the launch facilities at Vandenberg Air Force Base.
In late December 2019 TiSPACE plans to conduct a test launch its Hapith I (Saisiyat for "flying squirrel") sounding rocket, and launch Hapith V in late 2020. Hapith means "flying squirrel in Saisiyat, the language of the indigenous peoples of Taiwan.
The test launches will be made from private property on Taiwan's east coast and TiSpace plans to launch payloads into orbits of 250 to 300 kilometres altitude, which – if achieved – would break the existing hybrid rocket launch record of 150km altitude.
TiSPACE signed a memorandum of understing with Taiwan's National Central University (NCU) on 11 November 2019 in order to promote satellite launch services and related technologies. Through this agreement TiSpace aims to take advantage of the NCU satellite engineering department's faculty and students, and will launch an NCU ionosphere scintillation payload on a Hapith sounding rocket in 2020.
Acknowledging the tough and crowded market it is in, TiSpace's strategy is to launch satellites weighing between 200 and 400 kilograms and reduce the number of satellites per launch so that customers will not have to wait long for a launch window, or negotiate with other rideshares about orbital placements and parameters.
Chen told the Taipei Times said that he hopes to build a satellite technology industrial park and see TiSPACE carry out over a hundred launches per year by 2023, an ambitious target given that at present there are only about 100 launches a year around the globe. Given industry projections for the small satellite market over the coming decades, however, Chen envisions that satellite technology will be very much like consumer electronic products and that this in turn justifies such a large launch cadence.