SpaceWatch.Global asked its staff and contributors to review 2019 and provide an outlook into 2020. These personal reviews are being published during the holiday season. This is Jessica West of Project Ploughshares.
by Jessica West, PhD
Reflection: 2019 and 2020 – arms control and the security of outer space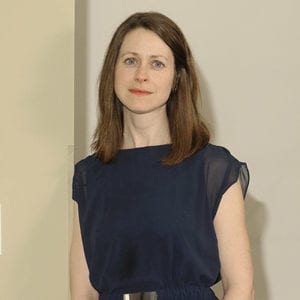 Jessica West, Senior Researcher at Canadian peace research institute Project Ploughshares and Managing Editor of the Space Security Index annual publication
Much of my time is spent researching and editing the annual Space Security Index report, which takes a comprehensive view of space security that encompasses sustainability of the space environment, safe access to outer space, the security of space-based systems, and governance. I started 2019 with an intention to follow five storylines this year, but one quickly dominated all the others: the prospect of warfare in outer space.
At the core of this story is the new U.S. Space Force. And, as I wrote a year ago, it's the "canary that signals an increasingly dangerous and antagonistic coal mine in outer space." The looming prospect of conflict in outer space is given further credence by the growing chorus of state voices that refer to what has traditionally been seen as a place of peaceful use and exploration as a "domain of warfare." This sense of inevitable doom was exacerbated by India's anti-satellite demonstration in March. And it is reflected in what I identify as the growing focus on military defence in outer space in 2019 by a number of states and NATO.
In response to this trend, Project Ploughshares and the Space Security Index teamed up with McGill University's Institute of Air and Space Law to host a symposium, "Conflicts in Space: Preventable or Unavoidable?" While the prospect of violent conflict seems nearer than ever, there was also a strong belief that steps can be taken to contain the harmful escalation of military tensions in outer space. Indeed, the need to constrain dangerous behaviours in outer space was agreed to by all in my discussion with Dough Loverro and Raji Rajagopalan on the nature of a Space Force at the annual UNIDIR conference on space security.
The need for better governance in space was another focus of my work this year. As noted in our statement on behalf of civil society to the UN General Assembly First Committee, this includes efforts to prevent an arms race and to "act proactively before outer space becomes weaponized." But as was demonstrated at the one-day event on a sustainable space environment at the UN that we co-hosted by UNIDIR and Secure World Foundation, arms control is one piece of the large and still unfinished puzzle that illustrates global governance in outer space. Unfortunately, little progress was made on this puzzle in 2019. Late this year, I wrote about the complete breakdown of consensus on security and arms control at the UN General Assembly, which was marked by a "stark absence of political trust or goodwill."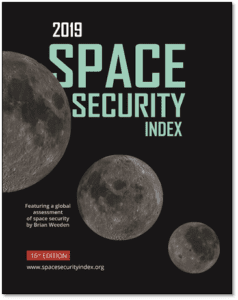 State governments are not focused on space governance either; Canada's new national space strategy scarcely mentions it. This lack of action is noted repeatedly in Space Security Index 2019. Despite the articulation by the private sector of voluntary measures to ensure the long-term sustainability of space, there is growing alarm that activities in outer space are outstripping available governance mechanisms. As Brian Weeden wrote in the Global Assessment in SSI 2019, without action, we could be reaching a breaking point. The risk extends to emerging activities such as the global rush to the Moon.
So, what does the next year hold?  Advancing effective governance and conflict-prevention efforts that enhance the security of outer space is more important than ever. In particular, we need to think creatively about arms control in outer space. Inspired by the work of colleagues at UNIDIR on verification in space, at Secure World Foundation on rules of behaviour, and by the MILAMOS and Woomera legal manuals underway, I'm thinking about how we can extend these tools to enhance collective security and limit the use of weapons in and against objects in outer space. And drawing on the evidence collected in the SSI volumes that clearly illustrates the centrality of the use of outer space to our collective well-being on Earth, I'm thinking about the humanitarian implications of conflict in outer space and the imperative for humanitarian protection.
Governance remains a key. In addition to work on arms control and conflict prevention, I'm working with project partners to produce a revamped 2020 Space Security Index with a greater focus on the connections between governance and the safety, sustainability, and security of outer space. Contributions to this effort are welcome.
Bio: Jessica serves as managing editor for the Space Security Index project as part of a larger research and policy focus on technology, security, and governance. She holds a PhD in global governance and international security studies from the Balsillie School of International Affairs, Wilfrid Laurier University. Her research is focused on the emergence and evolution of resilience-based policies for national security in the United Kingdom, the United States, and Canada.