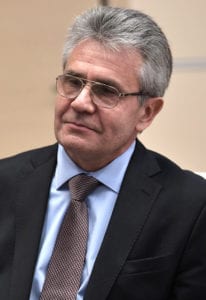 The President of the Russian Academy of Sciences, Aleksandr Sergeyev, has stated that Russia intends to build a group of synthetic aperture radar (SAR) Earth observation satellites with assistance from the space and satellite industry of Belarus, according to Belarusian news agency BELTA.
Sergeyev revealed the Earth observation satellite plan on 10 December 2019 during a conference held in Moscow on the twentieth anniversary of the Treaty on the Establishment of the Union State of Belarus and Russia.
"In the near future we are going to make decisions on creating a brand new satellite that will take care of remote sensing of Earth in all kinds of weather. The variety of components Belarus has will be very important for making this satellite or an entire satellite group," said Sergeyev.
Belarusian sources told BELTA that the plan, if implemented, proposes to create a new business sector involving Earth observation satellites and geospatial data within the Belarusian and Russian economies. SAR Earth observation satellites are capable of capturing high-resolution imagery in all weather conditions, day and night.
Russia already operates the Kondor series of SAR Earth observation satellites, built by Russian manufacturer NPO Mashinostroyeniya.
Belarus specializes in Earth observation optical instruments, cameras, and other components, and is tied at the hip to Russia's space and satellite industrial supply chain. Belarus also operates its own electro-optical Earth observation satellites.
The announcement of the joint satellite development plan comes as Russia is pressing Belarus for closer political, strategic, and economic integration between the two countries, a move that has sparked public protests in the Belarusian capital city of Minsk.