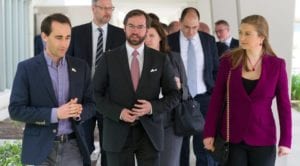 Made In Space Europe and Luxembourg Space Agency (LSA) announce a joint contract with the European Space Agency (ESA) to develop a robotic arm for space applications. The contract falls under the LuxIMPULSE programme, Luxembourg's National Space Programme.
Made In Space Europe will lead the technical developments of the project in Luxembourg, which are focused on developing a robotic arm for space, and evaluating the viability of a low cost, scalable robotic arm system for space missions. Made In Space Europe recognises the growing demand for affordable, space-capable robotic solutions. There is a critical need to increase commercial access to such technologies, driven by the increase of planned robotics-dependent space missions. Many of these mission profiles, which range from lunar surface activities to satellite servicing, require robotic arms more quickly and more affordably than the market has historically allowed. The need for greater access to space-capable robotics is industry-wide. Large aerospace companies require robotics that can scale with the growing demand for in-space services.
Additionally, the influx of smaller, privatised space companies is increasingly focused on reducing the cost and developmental timelines for robotics. Made In Space Europe will help to satisfy the emerging needs for space robotics, while addressing the immediate challenges of reducing cost and shortening timelines for space robotics.
"We are grateful for LSA's support in developing a presence in Luxembourg to service the greater European aerospace ecosystem," explained Jason Dunn, Co-founder and Managing Director at Made In Space Europe. "We couldn't be more excited to develop cutting-edge robotic technology to benefit the rapidly-growing commercial space markets. We will benefit from ESA's strong experience in space robotics."
Made In Space Europe expects the technology development and lessons learned under the LuxIMPULSE programme to directly influence the company's commercial product development. Made In Space Europe remains focused on developing a mass-market, low cost robotic arm product to serve the international aerospace market. Early customers are currently under contract, with inaugural demonstration missions planned as early as 2021.
Made In Space Europe S.à r.l. (Made In Space Europe) develops space-robotics for the international aerospace market. The company is focused on space industrialisation, specialising in robotic arms for space applications. Made In Space Europe employs a team of experts in robotics and space to sustainably build off-Earth robotic capabilities to enable the future of space industrialisation. Made In Space Europe was founded in Luxembourg in 2019.