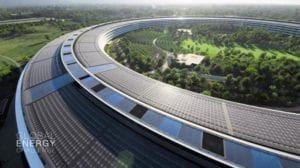 Apple is reported to be working on unspecified satellite solutions that could provide direct connectivity to Apple devices around the world, and could improve the accuracy of Apple maps and geolocation services, according to a 20 December 2019 report published by Bloomberg.
According to Bloomberg, over the past few years Apple has quietly hired a team of satellite and antenna engineers who have been tasked to work on the unspecified Apple satellite project. The report stresses that the project is in its early stages "and could be abandoned." It is reported that the Apple satellite team are expected to reveal the results of their work within the next five years, and that Apple CEO Tim Cook has taken a personal interest in the project.
Bloomberg points out that it is far from clear whether Apple intends to deploy its own satellite communications constellation that could bypass traditional wireless carriers and provide its own connectivity to Apple device users, or whether it is merely interested in developing its own ground and user segment that then utilises the satellites built by other companies such as OneWeb, SpaceX's Starlink, or even Amazon's Project Kuiper.
The Bloomberg report also speculates that the Apple satellite project could also involve a research and development drive to improve the company's geolocation capabilities that in turn can provide more accurate tracking and mapping services, as well as new features for device users.
The report notes that Apple has been hiring big-name satellite and antenna engineers such as Michael Trela and John Fenwick, who were hired in 2017 from Google and who had played a key role in the creation of Earth observation satellite company SkyBox Imaging that was sold to Google (SkyBox satellites are now operated by Planet), and Ashley Moore Williams, formerly a satellite communications executive at the Aerospace Corporation.
Apple has spent U.S.$16 billion on research and development in 2019 alone, a 14 percent increase over 2018 spending. According to Bloomberg, "One of Apple's primary goals is to bring more of the technology behind its products in house, which is what work on satellites could eventually enable."