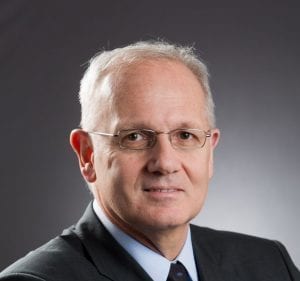 Centre national d'études spatiales (CNES) President Jean-Yves Le Gall was at the opening ceremony of the Dubai Airshow 2019, attended by His Royal Highness Sheikh Mohammed bin Rashid Al Maktoum, Vice-President and Prime Minister of the United Arab Emirates and Emir of Dubai. He also met Ahmad Belhoul Al Falasi and Mohammed Al Ahbabi, President and Director General respectively of the United Arab Emirates Space Agency (UAESA), to discuss projects on which CNES and UAESA are working together.
Discussions focused on joint actions being pursued by the two agencies, notably the organization of the second meeting of the signatories of the Space Climate Observatory (SCO) to be held at the forthcoming Abu Dhabi Sustainability Week in January 2020. The themes of major upcoming events to be organized by the International Astronautical Federation (IAF), of which Jean-Yves Le Gall is Honorary Ambassador—the GLEX 2020 Global Space Exploration Conference in Saint Petersburg from 9 to 11 June 2020 and the IAC 2020 International Astronautical Congress in Dubai from 12 to 16 October 2020—were also addressed.
Jean-Yves Le Gall and Ludovic Pouille, France's Ambassador to the United Arab Emirates, visited the CNES stand showcasing French space activities for visitors to the Dubai Airshow, where a giant image of Dubai seen by the Pleiades satellites is on display, as well as a close-up of the construction site of World Expo 2020 where CNES will be a partner in the France pavilion.
At the Women in Space conference on Monday 18 November, Jean-Yves Le Gall took part in the panel discussion on 'The Future of Space, Gender Diversity and Sustainability' alongside Simonetta Di Pippo, Director of the United Nations Office for Outer Space Affairs (UNOOSA), Mohammed Al Ahbabi and Sarah Al Amiri, the United Arab Emirates' Minister of State for Advanced Sciences. CNES's President recalled President Emmanuel Macron's speech at the United Nations Climate Summit last September setting out the roadmap for the 17 UN Sustainable Development Goals (SDGs), under which CNES is contributing to 13 SDGs. He also addressed the topic of climate change and the Space Climate Observatory (SCO) launched last June at the Paris Airshow with a declaration signed by more than 25 space agencies and international organizations. The SCO intends to foster closer international coordination to precisely gauge and track the local impacts of climate change using satellite observations and numerical models.
Lastly, Jean-Yves Le Gall spoke on the sidelines of the Dubai Airshow at a panel discussion during the 'Space, Women and Youth' conference organized by the Women Empowerment Committee of the French Business Group at the American University in Dubai (AUD).