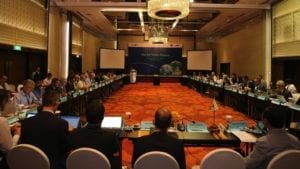 The Vietnam National Space Centre (VNSC) and the Vietnam Academy of Science and Technology (VAST) hosted the plenary of the 33rd Committee on Earth Observation Satellites (CEOS) in Hanoi on 15 October 2019.
The plenary involved delegations from 30 member organisations from countries such as Australia, Canada, China, France, Italy, Japan, Switzerland, the United Kingdom, and the United States.
The 33rd plenary of CEOS discussed the activities and plans of the committee for the 2019-2021 period, evaluated several proposed initiatives, and further developed multilateral cooperation in space-based Earth observation at both regional and global levels.
Established in 1984, CEOS works to foster closer international cooperation in civil Earth observation missions and programmes, encourage the exchange of satellite imagery and other data for social, economic, and environmental development and protection for the purposes of overall sustainable development and conservation for all humankind.
VAST is the Vietnamese representative organisation on CEOS, and joined in 2013. VAST assigned the VNSC to be the Vietnamese point-of-contact for all CEOS matters.
Associate Professor Dr. Pham Anh Tuan, the Director-General of the VNSC and the Chairman of the 33rd plenary of the CEOS, said that Vietnam proposed two initiatives at the plenary. The first is an Earth observation programme that monitors forests for the measurement carbon in the atmosphere. The second is a rice crop monitoring programme for better agricultural and economic planning and environmental protection.
2019 is a big year for Vietnamese Earth observation. As well as hosting the 33rd plenary of the CEOS in Hanoi, Vietnam also signed a contract with Japanese satellite manufacturer NEC for the LotuSat-1 high-resolution imaging satellite, and is also believed to be actively seeking solicitations for a very high-resolution Earth observation satellite from a variety of international satellite manufacturers.
Vietnam also launched its VMap digital mapping service in early October 2019 that will aid in the provision of government services such as post, education, and public health care across the country.