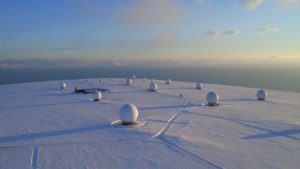 Norwegian Ground Network specialist and provider of EO services, KSAT, and Japanese Space Industry Start-up, Synspective, are announcing their global alliance.
Tokyo-based Synspective Inc., will develop a constellation of small Synthetic Aperture Radar (SAR) satellites over the next few years aimed at providing solutions and data for the global market, using high resolution data. The first satellite is planned to launch in 2020.
The partnership between the two companies will secure Synspective's cost effective ground support for their constellation, during LEOP and the operational phase. KSAT will be able to include SAR data and applications from the future constellation in their already extensive SAR portfolio.
"We are delighted to work with KSAT. We recognize the value of their vast global network as well as their leadership in the space industry and believe that by working together we can get one step closer to achieving mission and worldwide coverage.
"I believe that in order to expand the SAR market in New Space, synergetic collaborations are essential. I can see that synergy with our alliance with KSAT and look forward to working together" said Motoyuki Arai, CEO of Synspective Inc.
With their integrated network of ground stations uniquely located for minimal data latency, and agreements with all available SAR missions, KSAT has become a global "power house" for commercial SAR.
"We are very happy about this agreement marking the beginning of what we hope to be a long and fruitful relationship with our friends at Synspective. Closely following the new and exciting companies coming up in the Japanese NewSpace market, we are dedicated to supporting the Japanese space industry and looking forward to collaborating on data and land-based SAR applications from Synspective in the future" says Rolf Skatteboe, President and CEO of KSAT.
The constellation will be supported on the KSAT Lite network where KSAT provides ground station as-a-service (GaaS) to the operators through their global integrated network of ground stations.
KSAT Lite is optimized for small satellites and large constellations. This easy-to-use, ever expanding network, both in number of locations, bands, customers and capabilities, grows as the constellations grow, the economy of scale benefiting each individual operator.