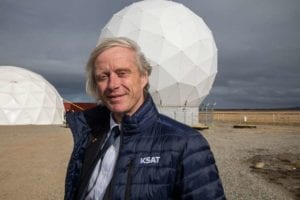 KSAT has been chosen by NASA to support the NiSAR and Pace satellites with ground station as-a-service from the Punta Arenas Chilean Ground Station. As a part of the agreement, KSAT will add new 11m multi-use Ka-band antennas to its pole-to-pole network.
Consequently, KSAT will increase the capacity at its ground station in Svalbard Norway and Punta Arenas, Chile, installing high-gain multi-mission Ka-band antennas that will be commercially available in the market.
"This is a strategically important agreement for us, confirming our leading position as provider of ground station as-a-service" said Rolf Skatteboe, President and CEO of KSAT. "The support on Ka-Band will be a significant improvement for NASA. Due to the increased capacity transferring data will be both faster and more reliable and will deliver data with Gbit capacity into existing cloud solutions"
In combination with KSAT's Antarctica ground station, Troll, the Punta Arenas ground station provides unique capacity in the southern hemisphere that is unparalleled in the market. Using KSAT ground services, a satellite operator will have full coverage both in the northern and southern hemisphere.
The Punta Arenas station was officially inaugurated by Their Majesties the King and Queen of Norway when they visited the station earlier this year.
The Punta Arenas station currently consists of 6 antennas; 2 for satellite control and data reception and 4 gateway antennas for Iridium Communications, a long-time KSAT partner. Due to its strategic location, the site is expected to expand further in the years to come.
The KSAT global network now consists of more than 180 antennas located at 21 sites.