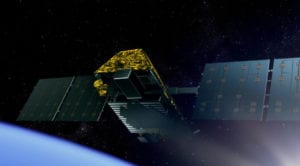 Breakthrough innovation specialist Cambridge Consultants announces the completion of a decade long, multidisciplinary project with Iridium Communications Inc. Cambridge Consultants has been Iridium's partner for the development of its core technology fueling the ground-based devices and infrastructure underpinning the revolutionary Iridium® NEXT satellite upgrade campaign.
The new satellite constellation, a $3 billion dollar project, is the largest technology upgrade ever to take place in space: a total replacement of the legacy satellite network. Iridium NEXT completes a transformation of Iridium's business, enabling entirely new services, including the new Iridium Certus® L-band broadband service, which becomes the world's fastest and only truly global broadband network.
As part of its long-term strategic partnership with Iridium, Cambridge Consultants committed a multidisciplinary team of over 100 engineers to develop core technology behind the Iridium Certus service. The project culminated with the deployment of 75 new satellites into low earth orbit. The Iridium satellite constellation is the only commercial communications network with pole-to-pole coverage of the entire planet. Technology developed in partnership between Cambridge Consultants and Iridium will enable enhanced and entirely new IoT and mobile internet applications through smaller and more cost-effective terminals.
Building on its track record of technically challenging and mission-critical system design, Cambridge Consultants helped to develop vital technology components, including transceivers, gateway systems and service management platforms, alongside multiple generations of Iridium handsets that can access the new multi-service platform.
"Our technology partner, Cambridge Consultants, is unique in its ability to support our vision of state-of-the-art connectivity, anywhere in the world," said Iridium CEO Matt Desch. "Cambridge Consultants has achieved this position with us under challenging time constraints, employing their world-class skills across a range of disciplines, including strategic insight, digital service design, communication network expertise and device development. They've helped us redefine the capabilities of satellite communications."
The Iridium Certus service enables mobile office functionality for deployed teams and two-way remote communication for assets, autonomous vehicles, trains, aircraft and ships at sea. This also includes safety-of-life services, where Iridium Certus is uniquely suited for the critical communications needs of teams operating beyond the reach of cellular coverage, including first responders and search and rescue organizations. The new satellite constellation will also support enhanced and entirely new IoT applications, enabling higher speeds through low-power, small form-factor devices.
Richard Traherne, Chief Commercial Officer at Cambridge Consultants, said: "We are delighted to build on the rich history of collaboration and innovation between Cambridge Consultants and Iridium. Developing ultra-reliable communications for satellites that are travelling at 27,000 kph in low-earth orbit is a complex task. We've deployed the full breadth of our expertise in order to solve the most technically demanding challenges. The result is first-of-its-kind technology with transformational business value. We look forward to continuing our support for Iridium as a core technology partner, helping bring the Iridium Certus service to more applications, industries and consumers across the world."
In a further honour, Iridium has dedicated one of the new satellites to Cambridge Consultants, fitting a commemorative plaque to the satellite that recognizes the "many innovations and technical achievements that have helped make Iridium the success it is today." Speaking of his pride at the naming, Traherne added: "To have a vehicle in space dedicated to Cambridge Consultants is a significant and even a moving experience. It represents the culmination of effort from a huge team that have played a part in Iridium's evolution. To have this memorialized in the new constellation is a gesture that means a great deal to each and every one of us."