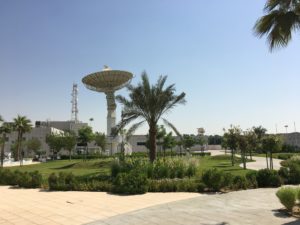 The Mohammed bin Rashid Space Centre, MBRSC, has organised a 'Science in Space' workshop, where students had the opportunity to conduct experiments that an astronaut would implement aboard the International Space Station, ISS.
The workshop was part of the Science in Space competition, conducted in coordination with NanoRacks LLC, and an initiative of the UAE Astronaut Programme, where schools could apply to conduct scientific experiments that study the impact of microgravity.
It supported the objectives of the first Emirati astronaut's scientific mission to the ISS, on 25 September 2019.
The two-day workshops were attended by Yousuf Hamad Al Shaibani, Director-General of MBRSC, and Salem Al Marri, Assistant Director-General for the Science and Technology Sector, and Head of UAE Astronaut Programme.
Hazzaa Al Mansoori, the prime astronaut, and Sultan Al Neyadi, the back-up astronaut for the scientific mission to the ISS, attended the workshops which included a panel discussion with the astronauts, where they answered questions from the students.
The educational outreach team of the UAE Astronaut Programme in the MBRSC alongside a team from NanoRacks LLC explained how to conduct scientific experiments in the ISS in a microgravity environment.
MBRSC selected 15 out of 150 schools who applied for the competition, from across the UAE. Each school team consisted of four students and a teacher.
"The first Arab and Emirati astronaut's scientific mission to ISS is a historic event for the UAE's space sector and the entire region. It is essential that Emirati students take part in this journey and contribute to the scientific experiments," Al Shaibani said.
"The results of the astronaut's experiments will be sent to Earth by NanoRacks to compare them with the results of parallel experiments conducted on-ground by students in the UAE, to compare the two environments," Al Marri added.
//WAM//