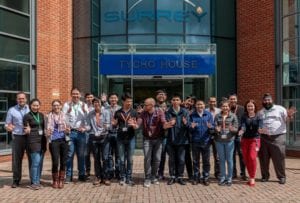 UK's Surrey Satellite Technology Ltd. (SSTL) welcomed Customer Engineers from Thailand's Geo-Informatics and Space Technology Development Agency (GISTDA) to its premises in Guildford, UK, to participate in the THEOS-2 SmallSAT Earth Observation project.
The THEOS-2 SmallSAT project is centred around the transfer of knowledge to enable the Thai engineers to design, manufacture, integrate, and test similar satellites in Thailand in the future, and this initial group of 12 Customer Engineers will undertake a variety of hands-on tasks to build their experience and capability in satellite engineering.
A total of 48 Customer Engineers will be involved in the programme over a period of four years, with training and mentoring taking place in the UK and in Thailand.  The training areas covered include project management, system engineering, mechanical analysis, power, RF, on-board data handling, flight software, AOCS, space environment and ground segment.    SSTL's know-how transfer programme aims to provide sustainable development of space activities in Thailand, through training and in-country capacity building.
The THEOS-2 SmallSAT is a one metre resolution class Earth Observation still and video imaging system, and also includes an AIS/ADS-B (ship/aircraft identification) payload.  The satellite platform is based on SSTL's CARBONITE series, and the technology will be licensed to the Customer for future use.
The satellite will be assembled and tested in GISTDA's new AIT facility in Sri Racha, Thailand.
THEOS-2 SmallSAT is SSTL's 20th Know-how Transfer programme and its second collaboration with Thailand – having previously trained customer engineers during the 1995-1997 Thai-Paht mission.  To view a full list of the training programmes SSTL have delivered for its global customers, click here.
The programme is delivered in collaboration with Airbus Defence and Space, who will deliver a very high resolution satellite and a comprehensive geo-intelligence system for the THEOS-2 Earth Observation Programme.