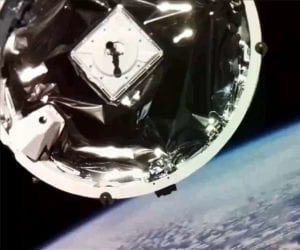 Switzerland's RUAG Space provided the microsatellite separation system to Rocket Lab's Electron Launch Vehicle. The 15 inch system serves as an adapter between satellite and rocket, and ensures a smooth separation in orbit. The first Electron launch with this particular separation system was used on the recent 5 May 2019 Electron launch from the Mahia Peninsula, New Zealand.
The Electron launcher carried three small satellites into orbit through the U.S. Air Force's Rapid Agile Launch Initiative on the STP-27RD mission. One of these is the S-CLASS small spacecraft platform built by York Space Systems, which will demonstrate four different payload technologies.
"Our separation system product range meets the needs of all launchers-big and small," said Peter Guggenbach, CEO RUAG Space. "We are proud that the result of our partnership with Rocket Lab and York Space Systems will now be taking its first flight, and we look forward to further collaborations."
Result of a year-long cooperation
Rocket Lab, the developer of the world's first fully carbon composite orbital launch vehicle, Electron, powered by 3D printed, electric pump-fed engines selected RUAG Space as its preferred supplier in mid-2018.
A few months earlier, York Space Systems, an aerospace company specializing in complete space segment customer solutions and the manufacturer of standardized spacecraft platforms, formed a partnership with RUAG Space to become York's sole supplier of separation systems for the S-CLASS spacecraft platform. As part of the collaboration, RUAG developed a customized separation system for York's Harbinger Mission.
More than 660 separations, 100% mission success

RUAG Space is an expert in satellite separations using payload adapter systems, dispensers and separation systems. They are used for major commercial and institutional launches in the U.S. and Europe, with more than 660 separations and 100% success rate to date.
RUAG Space has been expanding its business in the small payload adapter and separation systems market in recent years and seeks to extend that impact in the small launcher market with the partnerships with Rocket Lab and York Space Systems.