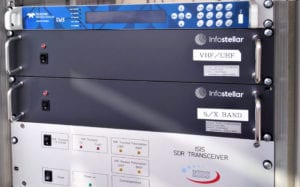 By Kristina Juul
Infostellar together with Innovative Solutions in Space (ISIS) and Teledyne Paradise Datacom make StellarStation compatible with widely used ground station hardware options supporting time and cost sharing thus empowering New Space startups.
As a result of these partnerships, the StellarStation ground station aggregator for New Space satellite services simplified the integration process for new users. Compatible ground station owners can now connect their equipment to StellarStation's sharing device, StarPass, and join the StellarStation network. Once connected they can sell their unused communication time to other users or recoup maintenance costs. Infostellar aims to lower entry barriers in the ground segment, so New Space startups can build better missions and improve the quality of their services.
Which equipment is already compatible?
ISIS as a single organization combining research and development, testing, launch services, and operation of small space systems enabled StellarStation to connect with Full Ground Station Kits for VHF/UHF VHF/UHF Ground Station Transceiver.
Teledyne Paradise Datacom as a designer, manufacturer and seller of satellite modems, solid state power amplifiers (SSPA), low noise amplifiers (LNA), block up converters (BUX) and associated redundancy subsystems provide a suitable Qubeflex satellite modem.
Infostellar looks to expand this partnership to more ground systems manufacturers to support a broad variety of satellite operation needs.