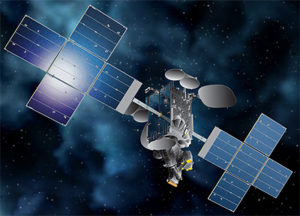 Telesat announced on 2 April 2019 that PT iForte Solusi Infotek (iForte), a leading provider of USO (Universal Service Obligation) VSAT services in Indonesia, has signed major contracts for Ku-band HTS and C-band capacity on Telesat's new Telstar 18 VANTAGE satellite. The contracts result from iForte's recent selection by Indonesia's Ministry of Communication and Information Technology to support the Ministry's programme of providing "Internet Fixed Broadband and Mobile Cellular Backhaul over Indonesia via a GEO Fixed Satellite Services (FSS) system."
Indonesia, the world's fourth most populous country, comprises over 17,000 islands, of which roughly 6,000 are inhabited. Providing broadband communications to such a highly dispersed population has long been a goal of the Indonesian government. To achieve this, Indonesia's Ministry of Communication and Information Technology initiated a competitive procurement early in 2018 for a geostationary FSS solution using HTS technology. iForte's proposal relied on Telstar 18 VANTAGE, a new Telesat satellite that recently entered commercial service.
iForte, a longstanding Telesat customer, has been using C-band capacity on Telesat's Telstar 18 to provide USO VSAT services in Indonesia for over 10 years. Once the Ministry began its procurement process, iForte worked with Telesat to make Telstar 18 VANTAGE a core component of its proposed solution for serving Indonesia's broadband requirements. After iForte received notice of its selection under the Ministry's procurement process, it contracted with Telesat for multiple C-band transponders on Telstar 18 VANTAGE for the life of the satellite and entered into a separate multi-year contract for all of Telesat's HTS spot beams on the same satellite.
"iForte is honored to have been selected by Indonesia's Ministry of Communication and Information Technology to implement a high performing, cost effective broadband satellite solution across our country," said Peter Djatmiko, iForte's President Director and CEO. "This award would not have been possible without the close working relationship between iForte and Telesat. By relying on the advanced capabilities of Telstar 18 VANTAGE, iForte was able to propose to the Ministry a highly innovative GEO satellite solution that offers both cost effectiveness and superior broadband performance. We look forward to working with Telesat and the Ministry on the implementation phase and providing an exciting broadband experience to millions of users across Indonesia."
"We would like to congratulate iForte on winning this competitive procurement and thank them for making Telstar 18 VANTAGE a central component of its proposed solution to the Government of Indonesia that will expand and improve broadband connectivity for all Indonesians," said Dan Goldberg, Telesat's President and CEO. "This is an important success for both companies and another example of how Telesat's collaborative approach with our customers results in highly innovative solutions that benefit consumers and enterprises throughout the world. Telesat values its close working relationship with iForte and looks forward to continuing to support its mission of serving the people of Indonesia."