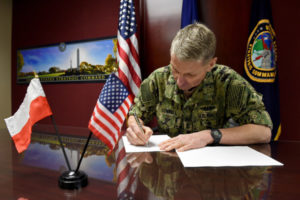 United States Strategic Command and the Polish Space Agency signed an agreement for space situational awareness (SSA) services and data at the 35th Space Symposium in Colorado Springs, Colorado, 10 April 2019. Agreements like these lay the foundation that allows the United States to share information with allies and partners.
Rear Admiral Richard Correll, director of plans and policy for USSTRATCOM, signed the agreement, which bolsters the United States' and Poland's awareness in the space domain. Poland is a stalwart ally in Central Europe and one of the United States' strongest partners on the continent in fostering security and prosperity regionally, throughout Europe, and the world.
"This agreement expands our already strong military and economic partnership into another domain," said Correll. "Agreements like this one, between responsible nations, are critical to setting norms that encourage peaceful space operations."
Poland joins 18 nations (the Netherlands, Brazil, the United Kingdom, the Republic of Korea, France, Canada, Italy, Japan, Israel, Spain, Germany, Australia, Belgium, the United Arab Emirates, Norway, Denmark, Thailand, and New Zealand), two intergovernmental organizations (the European Space Agency and the European Organization for the Exploitation of Meteorological Satellites), and more than 77 commercial satellite owners, operators, and launchers already participating in SSA data-sharing agreements with USSTRATCOM.
"The agreement with USSTRATCOM will support enlarging Polish SSA capabilities, in particular developing an SSA Operations Center in Poland, which will serve to enhance safety of Polish and allied satellites in space, among other goals," said Michal Szaniawski, acting President of the Polish Space Agency. "Signing the document is also a first step to broaden the SSA cooperation between Poland and the USA."
SSA data-sharing agreements enhance multinational space cooperation and streamline the process for USSTRATCOM partners to request specific information gathered by Air Force Space Command's 18th Space Control Squadron at Vandenberg Air Force Base, California. The data is critical for launch support, satellite maneuver planning, support for on-orbit anomalies, electromagnetic interference reporting and investigation, satellite decommissioning activities and on-orbit conjunction assessments.
"This is a major milestone in boosting Polish-U.S. collaboration in space, said U.S. Ambassador to Poland Georgette Mosbacher. "Specifically, it realizes President Trump's goals to support safe, stable and sustainable space activities."
USSTRATCOM has global responsibilities assigned through the Unified Command Plan that include strategic deterrence, nuclear operations, space operations, joint electromagnetic spectrum operations, global strike, missile defense and analysis and targeting.