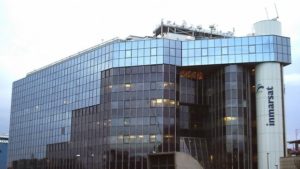 Inmarsat is to be acquired by a private equity consortium in a U.S.$6 billion deal. The news comes after Echostar made a bid for the mobile satellite communications company just last year and after interest was also shown by Eutelsat and SoftBank. The consortium, led by Apax Partners and Warburg Pincus will reportedly pay U.S.$7.21 per share.
Inmarsat invested heavily in its Global Xpress fleet of Ka-band satellites that launched between 2013 and 2015 to serve the maritime and aero community. However, business has recently been performing poorly and has been hit by oversupply in the industry which has pushed profit margins down. The company has also been affected by the promise of new small satellite 'mega' constellations that are cheaper to build and launch and offer low latency connectivity, ideal for the mobility sector which is seeing a surge in demand for data.
The company has set its sights on the in-flight connectivity market and is working with Deutsche Telekom on an integrated satellite and air-to-ground network that promises aviation customers a high quality broadband service when flying over Europe. Entitled the European Aviation Network, it  combines high capacity satellite coverage with a complementary 4G LTE ground network to provide high-speed connectivity across 30 European nations.
Apax initially acquired Inmarsat in 2003 with Permira and floated the company on the Stock Exchange in 2005. The consortium believes that Inmarsat is in a good position for growth and there are long-term contracts that it expects to benefit from.
Inmarsat has a long heritage in the satellite industry and was originally founded by the International Maritime Organization (IMO) in 1979 to provide a satellite communications network that would protect the lives of mariners anywhere at sea.