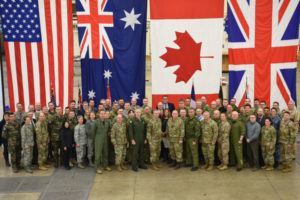 The Joint Force Space Component Command (JFSCC) hosted a Combined Space Operation Coalition Summit with more than 120 defence personnel from Australia, Canada, France, Germany, the United Kingdom, and the United States at Vandenberg AFB, California, 19-22 February 2019.
The primary objective for the summit was to work with coalition partners to define and develop the way ahead to transition the Combined Space Operations Center (CSpOC) to Full Operational Capability (FOC).
Summit attendees also discussed the potential expansion of coalition personnel into U.S. Space Command, future multinational training opportunities, space sensor integration, space surveillance and situational awareness cooperation, and the way ahead for future space collaboration.
"The summit gave us the opportunity to build upon a significant amount of momentum in space with our allies and partners," said Maj. Gen. Stephen Whiting, 14th Air Force Commander and Deputy Joint Force Space Component Commander. "It also allowed us to identify tangible actions to move the CSpOC toward FOC, and align overarching coalition efforts."
During the summit participants held operations working groups, capabilities and architecture working groups, and senior leader discussions. The summit concluded with a Table Top Exercise (TTX).
The TTX focused on the command and control (C2) of multinational space forces and capabilities against a shared threat. The TTX also worked through implications of designating a single multinational space commander to direct coalition operations against the threat.
During the TTX representatives from each country discussed their nations' space C2 structure and capabilities, synchronizing multinational resources to defend against actual or perceived threats, and national caveats or concerns.
"It is a priority for the JFSCC to work with like-minded partners to develop combined space operations with adaptive and scalable C2 of our forces. That's exactly what the summit accomplished this week," said Whiting.
"As space becomes more congested and contested, it's imperative that we work with allies and partners to preserve access to space, operate through a potentially degraded space environment, and provide mission critical space capabilities to our military forces around the globe."