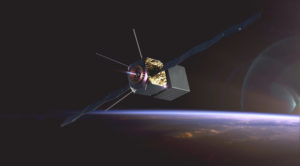 Reaching a desired orbit in space is set to become easier and more cost-effective, as space transportation start-up Momentus is soon to prove with its Vigoride service. German launch service provider, Exolaunch has signed a contract worth over U.S.$6 million with the Momentus to move its CubeSats and Microsatellites into multiple, bespoke orbits. The announcement by Momentus, which was made at the Small Satellite Symposium in Mountain View, California, will initiate their Vigoride service by 2020 and their Vigoride Extended service by 2021.
Established in 2017, Momentus aims to provide rides to space for operators that are looking for destinations that were not previously being offered. The company was founded by Mikhail Kokorich (founder of Dauria Space) and his partner Lev Khasis with a vision to create efficient in-space transportation for 'enterprise and existence to flourish in space'.
Momentus will use their Vigoride service to move satellites with masses up to 250 kg from the International Space Station (ISS) orbit all the way up to 2,000 km. Vigoride can be launched from an EELV Secondary Payload Adapter (ESPA) dispenser, from ISS airlocks, or from almost any small dedicated launcher or larger rideshare vehicle.
Satellites with masses up to 300 kg may be moved from LEO to Geosynchronous Transfer Orbit, or up to 100 kg directly from LEO to GEO, Lunar orbit, and beyond may use the Vigoride Extended service which can be launched from almost any small dedicated launcher or larger rideshare vehicle.
In a statement, Exolaunch Chief Executive, Dmitriy Bogdanov, explained that Vigoride will give clients "an unprecedented flexibility of satellite deployment, reducing the price of launch, and giving access to orbits not typical for ridesharing vehicle".
Momentus is shortly to undertake its first technology demonstration – the first of its kind. Named El Camino, the in-orbit flight will feature its microwave electrothermal plasma rocket in space to prove the technical feasibility of its high performance water rockets.