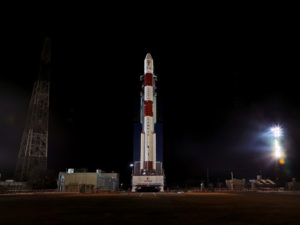 A military Earth observation satellite made by several laboratories within India's Defence Research and Development Organisation (DRDO) and called MicroSat-R was launched on board an Indian Space Research Organisation (ISRO) Polar Satellite Launch Vehicle (PSLV) on 24 January 2019 from the Satish Dhawan Space Centre in Sriharikota, India.
DRDO has released very few details about the MicroSat-R, except that it weighs about 700 kilograms and has been placed in a very low polar Earth orbit at 274 kilometres altitude, much lower than the orbital altitudes of 400 to 700 km used by the CartoSat reconnaissance satellites used by the Indian Armed Forces.
According to an anonymous Indian official, the just-launched MicroSat-R is likely to be the first of at least six satellites that will be launched at later dates.
"There is increased demand for satellites from strategic sectors. About six-seven satellites are planned to be built," the unnamed senior official told IANS, an Indian news outlet.
After the successful launch, ISRO Chairman Dr. K. Sivan said that, "The mission is a grand success. The PSLV rocket precisely injected the Microsat R in its designated orbit."
As well as launching DRDO's MicroSat-R, the launch was significant for other reasons.
The variant of the PSLV used includes a fourth stage (PS4) whose engine was fired twice during the launch mission, and serves as a platform for a secondary payload called KalamSat that was built be students from Space Kidz India located in Chennai. According to Srimathy Kesan, founder and CEO of Space Kidz India, KalamSat is a 10cm x 10cm x 10 cm communications CubeSat that weighs 1.2 kilograms and an expected operational lifespan of two months. The KalamSat project cost the equivalent of just under U.S.$1,700 to build.
"For us, the excitement is about reusing the spent fourth stage [PS4] of the rocket as an orbiting platform for future experiments," a senior ISRO official told Indian news outlets.
"In PSLV-C44, the fourth stage (PS4) of the vehicle will be moved to higher circular orbit so as to establish an orbital platform for carrying out experiments," according to the pre-launch brochure for the launch published by ISRO.