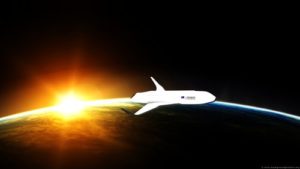 Dawn Aerospace, a New Zealand-Dutch startup building 100% reusable rockets for satellite delivery, has raised NZ$3.35 million (U.S.$2.24 million) of investment from Kiwi, American, and Dutch investors.
The money will be used to commercialise its world-leading satellite propulsion systems and begin development of it's Mk-II Spaceplane.
The company makes reusable rockets designed to carry small satellites into space. Each rocket is designed to be indefinitely reusable and capable of multiple flights per day, much like an aircraft.
Dawn Aerospace also makes propulsion systems for small satellites to allow them to maneuver once in space. These systems are world leading in performance and capability and are non toxic, unlike existing satellite rocket fuels.
Successful testing of a Mk-I spaceplane was completed in August this year and development of the Mk-II has started with support from Callaghan Innovation.
The first Dawn Aerospace satellite propulsion system is scheduled to be launched to space from French Guiana in July 2019.
Dawn Aerospace's flagship spacecraft, the Mk-II Spaceplane is expected to take flight in 2020.
"The MkII will be the first-ever vehicle to fly to space twice in a single day," Dawn Aerospace co-founder Stefan Powell says.
"It will be the first in a series of reusable spacecraft that will revolutionise access to space in what is an incredibly exciting time for the industry, especially here in New Zealand.
"We'll be using the funding to build the Mk-II and further develop our world-leading non-toxic and non-cryogenic satellite propulsion systems.
"Everything we do at Dawn Aerospace is based on high-frequency reusability. If a piece of hardware cannot be reused on the same day, we are not interested. This makes the systems we develop not only cheaper to use, but also cheaper to develop – more reliable and more environmentally-friendly."
The investment round was led by Icehouse's Tuhua Ventures, with investment from Derek Handley's Aera VC, as well as Erik Swan: the founder of Splunk, a NASDAQ-listed software company worth more than $20 billion.
Swan will become the investor director to represent all of the investors in the round.
"We were able to attract investment from New Zealand, Europe, and the USA which tells us there is a global need out there not currently being fulfilled. The round was highly oversubscribed, which was a nice vote of confidence."
The investment puts Dawn Aerospace in prime position to capitalise on an extremely fast-growing market opportunity thanks to the exponential growth in small satellites (AKA "smallsat") being sent to space.
A recent report by Euroconsult predicts 7,000 smallsats will be launched to space by 2022, with the total value of the launch services industry estimated at $32 billion.
"There are natural advantages that New Zealand has in the space industry," Tuhua Ventures Managing Partner, Robbie Paul, says.
"New Zealand has relatively free air space, a small and forward-thinking Civil Aviation Authority and more recently, thanks to Rocket Lab's leadership, international recognition as a space nation. The industry could grow into one of NZ's key export earners."
Dawn Aerospace was founded by five engineers: Kiwi brothers Stefan and James Powell, Jeroen Wink (Netherlands), Tobias Knop and Robert Werner (Germany).
The company's primary research, manufacturing, and test facilities are located in Auckland and Delft, The Netherlands.