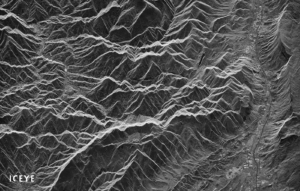 ICEYE, the Finnish Earth observation company attempting to create the world's largest synthetic aperture radar (SAR) satellite constellation, has published its first radar image from the ICEYE-X2 satellite, launched on Spaceflight's historic SSO-A mission two weeks ago. The image is of Natural Parks Aralar and Aizkorri-Aratz, Spain, on 7 December 2018, taken only four days after launch. ICEYE-X2 was successfully launched on 3 December 2018, aboard a SpaceX Falcon 9 rocket from Vandenberg Air Force Base in California.
The compressed image released to the public portrays the mountainous areas between Aralar and Aizkorri-Aratz Natural Parks, during night time. The area features the Basque Mountains and several communities connected by infrastructure. The published frame contains over 500 square kilometers of land, from a roughly 20×25 km area, originally imaged at 3×3 meter resolution. The published image is a significantly compressed file, as the original data downlinked was 2.4 gigabytes in size for just this individual frame.
"Our remarkable team is committed to keep delivering world-leading radar imaging satellites to help others make more informed decisions. We are ecstatic to have had not one but two groundbreaking missions this year," said Rafal Modrzewski, CEO and co-founder of ICEYE. "Is it incredibly hard to develop small SAR satellites at such a fast pace? Absolutely. Is it impossible? The achievements of our team speak for themselves."
ICEYE established successful communications with the satellite within hours of its launch. After the initial connection was established, ICEYE-X2 went through a smooth early orbit phase and payload commissioning. The company continues to improve the in-orbit imaging capabilities of ICEYE-X2 with further testing, before starting commercial operations with the satellite. Following this launch, ICEYE plans to launch up to eight additional SAR satellites by the end of 2019.
ICEYE's world-leading SAR technology, developed in-house, can provide imaging from low Earth orbit during any time of day and even through cloud cover. This first image from ICEYE-X2 paves the way for ICEYE's commercial imaging services for a wide variety of customers. The company is focused on making very significant improvements on how often actionable and reliable information is available from any point on Earth for operational uses. This new source of timely and reliable data is valuable for various sectors, such as maritime, agriculture, and insurance.
"The success of this mission is another key step in showcasing to our customers the concrete and significant benefits of SAR on small satellites," said Pekka Laurila, CSO and co-founder of ICEYE. "We look forward to delivering continued successes, and turning them into direct value for our customers."