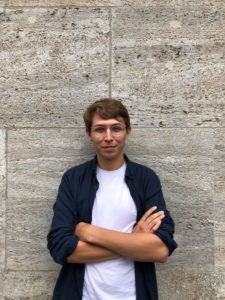 Berlin has become a space industry hub, and a popular place for start-ups. One of those is LiveEO, a Berlin-based company that aims to offer services to enable companies to monitor large-scale infrastructure networks, using Earth observation technology. SpaceWatch.Global's Torsten Kriening spoke to Sven Przywarra, Co-Founder and COO of LiveEO, to find out more about their vision and current and future plans.
Tell us a bit about yourself, Sven.
I am Sven Przywarra, the founder and CEO of LiveEO, a space start-up that was founded in Berlin. My background is in business engineering and along with my co-founder, Daniel Seidel, who I met at a space conference, we started LiveEO in 2017.
What does you company do?
We analyse earth observation data from multiple sources to monitor large-scale infrastructure networks. We are already at a point where we are looking to work with customers on an international basis.
It sounds exciting. You were already working for a very cool space start-up so what motivated you to found your own company?
I will tell you something about my personal history. I studied business engineering at the Technical University of Berlin and since my early childhood days I have been very excited about space. However, I was always a little bit dissuaded by the way in which 'Old Space' worked and how the big players dominated the space industry. So I was amazed when, at the beginning of my university days, I saw that PTScientists, one of the then competitors of the Google Lunar XPrize, was still around and was going strong. I decided to volunteer at PTScientists and at that time, I was one of their first employees. I worked there for three years but at one point I thought I wanted to start my own space company because it was something that was inside me. I believe – as Daniel does – that EO offers so many opportunities and we wanted to capitalise on these and create a business from it.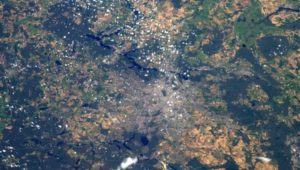 Entrepreneurship is of course a big step and it's not easy to run your own company. Who are your clients?
We are building a one-stop-shop for infrastructure grid operators. Our clients are, of course, operators of infrastructure grids worldwide. We are offering a solution that enables them to monitor the complete grid and to gain business insights, they can all profit from our technology and our insights through satellite data.
What you are talking about sounds quite similar to many of the other big players such as Planet and DigitalGlobe. Other analytic companies are popping up like mushrooms across the globe. What are you doing that's different?
You mentioned Planet. We are working together with them very closely and we are part of their Application Developer Program. We are also working together with Airbus. These companies are not our competitors. They are our data providers and yes, of course they are offering analytics solutions and services but they are not targeted to our domain. What differentiates us from these companies and from other EO companies is that we offer a deep insight into the day-to-day operations of our clients.
Sounds great but your competitors are multi-million and multi-billion dollar companies. They might not cover this area right now, but they might do in the future. What is your current status?
We have a team of more than twelve people in our Berlin office who are highly qualified and from the fields of GEO IT [geospatial information technology] and IT. We always bring together the best talent when it comes to remote sensing and automation. We have built the solution from the ground up. We are faster thanks to this combination of different fields of expertise. We use machine learning and AI to get the most out of the data available.
You are now one-and-a-half years into operations and it sounds challenging. Are you making money yet?
We sold our first product to our first big client and we are in multiple proof-of-concept stages with other operators. So we are off to a good start. There's a long way to go but with our first product we have hit customer interest and we are raising seed investment from Venture Capital funds to grow our team even more and to build up other products because we want to build a one-stop-shop for infrastructure operators.
What is your vision for the company over the next five to 10 years?
Within the next five years we will be monitoring every infrastructure grid on the planet. That's our goal. That is what is written in big letters on the wall of our office. In the next few years we will also be a European company which is a global market leader in the field of EO, of course amongst others. It is a vast and exciting industry. In the U.S., you have companies like Orbital Insight that are very well-funded on the VC side and that have great talent of course. However, we also believe that we have great talent and technology in Europe too and a great heritage in EO so why isn't there a European counterpart to these companies? We will be that European counterpart.
Do I get more or less a video feed from space with LiveEO? Let's say I'm running a small factory and with some grid infrastructure and I want to buy your service. What do I get?
The name LiveEO was created because our long-term vision is to merge satellite data with ground data but on the regulatory side, we are not there yet. But LiveEO also delivers answers on specific questions very fast. Although we don't have data from today, we have data from this week which is close to real time in terms of EO.
You as a customer decide what is necessary for your use case and whether you want to get data every week or every second week.
How do you find talent as a startup in the Berlin area?
You mention Berlin and this is a really great area but our company has talent from all over the globe: from Brazil, from Venezuela, from Chile, from Europe and they were all attracted by Berlin which is a magnet for talent. The space industry is also just really interesting and in a dynamic start-up environment, where everyone can work on an interesting project that enables everyone in the team to develop things that have never been done before, it attracts talent.
What got you into space?  
Maybe it was the first Star Wars! That was really cool when I was a child. My primary school teacher also talked about the Moon landing as he saw it on TV. He was so excited about it. From then on I never stopped wanting to work on a space project. I worked in school on science projects in that field and at PTScientists and with NewSpaceVision, the event I am co-organising where we are trying to get more people excited about space in the Berlin area.
What attributes do you need to be an entrepreneur in the space sector?
I think entrepreneurship in general is about not thinking too much about what could go wrong. Yes, consider what could go wrong but just start. If you plan everything you will never start. You will get pushed back but you just have to keep going. Persistence and optimism are probably the most important things!
What is your advice can you give to your young colleagues?
In New Space there is a great opportunity for young people to start a company. Software is easier than hardware but if you have an idea right now, you have the chance.  If you have a hypothesis about a problem out there in the market you should go and try it out there. Go for it! The time is right.