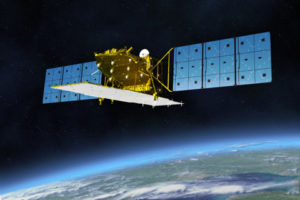 PASCO, a Japanese provider of satellite-based geospatial information, has signed an agreement to distribute data and images acquired by the ALOS-2 Earth observation (EO) satellite which is owned by the Japan Aerospace Exploration Agency (JAXA). As part of this agreement, PASCO will start selling a new InSAR Package service to support different users' needs for analysis and monitoring over time.
In recent years, natural disasters have occurred more frequently around the world, and research projects aimed at disaster prevention have been actively implemented. In particular, research using Earth observation satellites is gaining attention as an effective method because a wide range of information can be obtained on a regular basis. Among them, the Synthetic Aperture Radar (SAR) satellite represented by Japan's Advanced Land Observing Satellite 2: Daichi-2 (ALOS-2) is effective for periodic observation because images are suitable day and night, regardless of atmospheric weather conditions. Interferometric SAR (InSAR) analysis is suitable for monitoring land subsidence and deformation associated with a natural disaster, and the need for this is increasing year by year.
In order to respond to such needs, PASCO will provide a new InSAR service on a package-fee basis, so that users who conduct InSAR analysis multiple times in a certain period and/or over long-term monitoring periods can purchase the datasets as a 'package purchase'.
InSAR Analysis
It is possible to measure the displacement of the ground surface (how much the ground has moved) from the difference of observation data (reflection information) over multi-temporal observation periods. Such an analysis method is called InSAR analysis. This analysis method is particularly used in fields such as ground change monitoring and estimation of urban changes and shows the ground change estimated by InSAR analysis using the observation data before and after the 2016 Kumamoto earthquake disaster in Japan. It can be confirmed that the displacement occurred along the fault from the epicentre.
ALOS-2 Satellite
ALOS-2 is a Japanese Earth observation satellite equipped with an L-band surface visualisation radar PALSAR – 2 sensor. PALSAR-2 is a Synthetic Aperture Radar that transmits radio waves to the ground surface and receives radio waves reflected from the ground surface to obtain information. Unlike optical sensors, it is capable of observing day and night, and in all weather conditions. It is widely used in various fields such as disaster situation grasping, environmental monitoring, land use survey and resource exploration.
The L-band is one of the bands of microwave (frequency: 300MHz to 3THz, wavelength: electromagnetic wave of 0.1m to 1.0mm), representing frequency of 1 to 2GHz and wavelength of 15 to 30cm. One characteristic of the L-band is that radio waves pass through vegetation and partly reach the ground surface. Therefore, it is also possible to obtain information on vegetation and the ground surface.
PASCO first launched a project to provide geospatial information using satellites in 2005, and then became involved in the satellite business in earnest when the TerraSAR-X satellite commenced operation in December 2007. As of September 2018, the company has the commercial right to use 20 Earth observation satellites operated around the world for its geospatial solutions services in Japan. Additionally, PASCO provides its solution services globally by utilising satellite data to support activities such as landslide monitoring in the mountainous areas, ground change monitoring, urban change analysis, agricultural land management, etc.